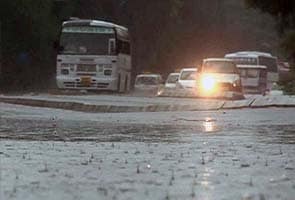 New Delhi:
A day after being lashed by rains, Delhi saw a humid, sunny on Saturday with the maximum temperature settling a notch above average at 36.7 degrees Celsius. The Met office has forecast rains on Sunday.
According to the India Metrological Department (IMD), the skies will remain partly cloudy on Sunday and parts of the city will see rains.
The maximum and minimum temperatures on Sunday are expected to be around 35 and 26 degrees Celsius.
Saturday's minimum temperature was recorded at 25.8 degrees Celsius - a notch below the season's average while the maximum humidity was 97 per cent.
Friday's maximum temperature settled at two notches below the season's average, 33 degrees Celsius, and minimum temperature was 27.3 degrees Celsius - normal for this time of the year.