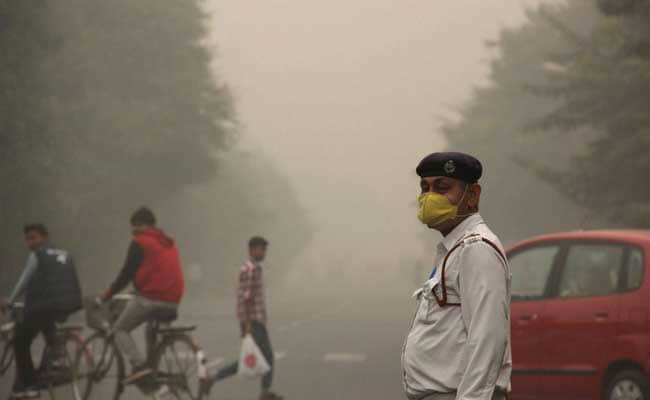 New Delhi:
As air pollution reached alarming levels in the national capital, major city hospitals witnessed a surge in the number of patients complaining of respiratory problems with doctors saying some may develop life-threatening conditions.
While people were seen wearing masks to protect themselves outdoors, there was a spurt in fresh cases in hospitals and conditions of patients with history of asthma, Chronic Obstructive Pulmonary Disorder (COPD) and cardiovascular diseases deteriorated.
"Patients have started coming to the OPDs with complaints of breathlessness, coughing, sneezing, tightness in chest, allergy and asthma complications. There is about 20 per cent rise in patients seeking treatment due to respiratory and cardiac issues," said AIIMS Director Randeep Guleria, who is a also a renowned pulmonologist.
He, however, said that N95 masks and air purifiers, whose sale has increased in the last few days, may not provide full-time protection and stressed on implementation of longterm measures to tackle the crisis.
He also compared the situation in the national capital with the Great Smog of 1952 in London--a severe air pollution event which led to death of over 4,000 people--and said pollution is at such a severe level that patients with respiratory and cardiac problems may develop life-threatening conditions.
"This is a silent killer," he said.
The centre-run Safdarjung hospital also witnessed an increase in such patients in its OPDs and casualties over the past two days, professor and head of pulmonary medicine at the hospital JC Suri said.
He said the immediate effects are cough, throat infections and pneumonia, but in the long term the results could be disastrous as one could also develop lung cancer.
"Elderly and children are more likely to develop infections and allergies due to smog and pollution. So they should avoid going out during the early morning and at dusk hours when the toxic level is at its peak," JC Suri said.
"Also, when pollution levels rise, the condition of those suffering from Chronic Obstructive Pulmonary Disease (COPD) or asthama or heart disease worsens," he said.
According to Vivek Nangia, Director and HOD, Pulmonology, Fortis Flt Lt Rajan Dhall Hospital, there has been a 25 per cent increase in OPD footfall in the past 24 hours of patients with various kinds of respiratory stress.
"These comprise not only first time walk-in patients but also repeat patients. The situation is grim with the disease being more protracted due to the severely poor air quality.
"This is leading to longer recovery times, more dependence on steroids, antibiotics and inhalers. The situation will continue till the pollution levels are brought under control," Mr Nangia said.
Rajesh Chawla, Senior Consultant (Critical care, pulmonary and sleep disorders) at Indraprastha Apollo hospitals suggested that people avoid indulging in outdoor physical activity and wear good quality masks and keep their eyes, nose and mouth covered.
Delhi's air quality was at the season's worst yesterday as a combined effect of smoke from stubble burning and moisture which turned the city into a "gas chamber" leaving people gasping and prompting authorities to announce closure of primary schools and a four-fold hike in parking fees among a series of sweeping measures.
As a thick blanket of haze hung low over the city, visibility levels plunged, affecting flight and train operations. It permeated living rooms and even the underground metro stations in the city making it difficult to breathe, turning eyes watery and producing burning sensation.
The Indian Medical Association said the capital was witnessing a "public health emergency" and appealed to the government to stop outdoor sports and other such activities in schools to protect the health of children.