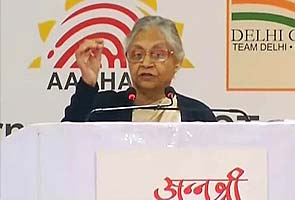 New Delhi:
While the Congress is busy projecting its commitment to the
aam aadmi
(common man) through schemes like direct cash transfer for the poor, its own chief minister Sheila Dikshit has stoked a controversy by saying Rs. 600 is enough to support a family of five.
The Chief Minister made this comment on Saturday during the launch of the Delhi government's ambitious food security programme, the Dilli Anna Shri Yojna, under which a monthly cash subsidy of Rs 600 will be transferred directly into
Aadhaar
-linked bank accounts of the senior-most female members of two lakh poor families.
"In Rs 600, he would get
dal
, rice and wheat...A family of five can easily complete their needs," Ms Dikshit said at the launch of the scheme which was unveiled by Congress President Sonia Gandhi.
Her remarks are bound to make her party uncomfortable, especially since the Congress would be hoping to capitalise on the scheme in view of the assembly elections that are slated next year. The party is already promoting the latest venture, due to be implemented on April 1 next year, with a slogan, '
aapka paisa, aapke haath
' (your money in your hands), as one for the
aam aadmi
(common man). The UPA government at the Centre, too, has, on a larger level, been aggressively highlighting its controversial direct cash transfer scheme as a "game-changer", with its eyes set firmly on 2014.
The Opposition, not surprisingly, immediately latched on to her remarks, slamming her for being far removed from reality.
"Chief Minister Sheila Dikshit says a family can manage on a budget of Rs 600 per month for buying rice, wheat and
dal
. This, in effect, means that one person can manage on Rs. 4 per day. The chief minister has never visited a slum or unauthorized colony till date, nor has she ever gone to a village. Hence, she is unaware of the ground realities despite being a woman," said BJP leader Vijay Goel.
Party spokesperson Mukhtar Abbas Naqvi also hit out at the Chief Minister saying, "It is punching a poor man on his face after inflation."
The Congress, though, tried to play down the controversy.
"We do politics and if we do development work, then the voters will choose us and in the last three elections, our government in the leadership of Shiela Dixit has done good development and changed the face of Delhi...if we keep up the good work, the government will come back," said Public Works Department Minister Raj Kumar Chauhan,
But the prospective beneficiaries of the scheme, too, have found the chief minister's logic hard to digest. Pappi lives with her family of four members in a slum cluster in south Delhi. They are one of the two lakh poor families, which are not getting subsidised food either under the Below Poverty Line (BPL) scheme or the Antyodaya Anna Yojana, and have been identified as the beneficiaries of the state government's latest food programme.
Pappi has her
Aadhar
(Unique Identification) card ready, through which the subsidy of Rs. 600 will be directly transferred into her bank account. But her monthly budget for food for her family easily exceeds that, ending up at thousand to fifteen hundred rupees a month.
"The government has to understand that Rs. 600 is not enough for the whole family. But again for a poor person when they are offered that money, no one will refuse it," she said.
Nisha, who lives a few blocks away from Pappi's home, shares the same sentiment. With her husband as a daily wager, earning anywhere between Rs 2000-3000 a month, and seven children to take care of, feeding the family for Rs. 600 sounds like a rude joke to her.
Earlier, Planning Commission Deputy Chairman Montek Singh Ahluwalia had stirred a major controversy after he said that Rs 27 and Rs 32 a day were sufficient for sustenance in rural and urban areas respectively.