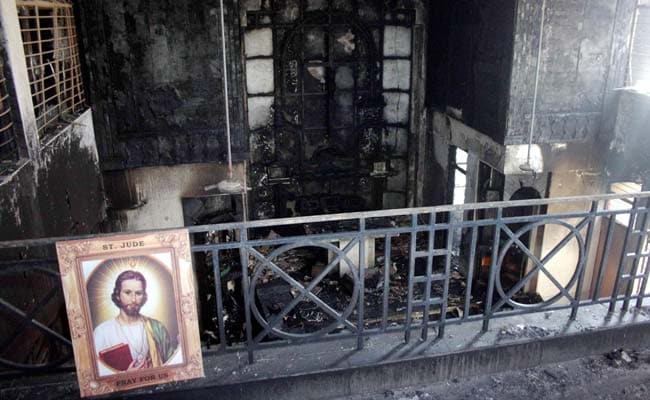 New Delhi:
Hundreds of protesters on Tuesday raised slogans outside the Delhi Police headquarters and demanded action, a day after a Catholic church in Delhi was badly burnt in a fire.
Caretakers of Saint Sebastian's Church in east Delhi's Dilshad Garden suspect the role of unidentified men in starting a blaze that destroyed much of the building, including the prayer hall.
The police have registered a case based on their complaint, but the church accuses them of reacting late to the fire call. "The police and the forensic team only reached at 5.30 pm, though the fire broke out in the morning," said Father Stanley, a priest of the church.
Protesters gathered outside the police headquarters in the heart of the city to press for a thorough investigation, a demand that has been backed by the Aam Aadmi Party and the Trinamool Congress.
"Horrified. Angry. Saddened with news of Delhi church burnt/destroyed...Other incidents in MP/Chatgh/Ktka too of Christians being terrorized (sic)," tweeted Trinamool parliamentarian Derek O'Brien, who plans to raise the incident in Parliament today.
Arvind Kejriwal, the chief of the Aam Aadmi Party, visited the church on Monday and demanded "a serious, thorough, time-bound and impartial probe."
AAP has accused the police of ignoring clear evidence of arson. A forensic team has reportedly found traces of kerosene on the church premises; the police said it could be evidence that the fire may have been intentional. Some windows were also broken.
A watchman spotted the fire at around 6.30 am, when the church was empty. The police say the church was unguarded between 5 and 6 am and the fire may have started then.
"It seems to be a deliberate act as we could smell kerosene. It has been a very emotional day for us," Father Stanley Kozhichira, a priest at the Delhi archdiocese told NDTV.
Saint Sebastian's Church was built in 2001 in an area that has a mixed population of Hindus and Christians. Almost 3,000 people attend its Sunday mass, say priests.