New Delhi:
Kapil Mishra, sacked Aam Aadmi Party minister now on a hunger strike,
has alleged that a man who attacked him
yesterday worked with senior Delhi minister Satyendar Jain. Mr Jain is at the centre of Mr Mishra's many allegations of corruption against AAP and its chief Arvind Kejriwal.
As he began his second day of fasting, Mr Mishra said this morning, "The attack was all too planned. The attacker, Ankit Bharadwaj, is working with Satyendra Jain in the Mohalla Clinic project and is a party worker," challenging AAP's allegation that he was a member of the BJP's youth wing, the Bharatiya Janata Yuva Morcha (BJYM).
The BJYM has denied any link with Mr Bharadwaj.
Mr Mishra questioned the alacrity with which Mr Kejriwal's party declared the attacker a BJP man saying, "Whatever followed that incident was very strange; the police had just taken him away when Sanjay Singh did a presser saying that the man who was trying to attack me was a BJP agent...why did you rush to lie?"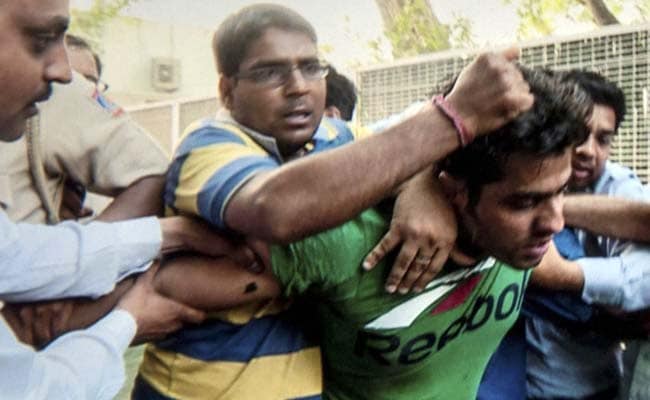 Kapil Mishra has since yesterday been on an indefinite hunger strike
in a tent at his Civil Lines residence, demanding that details of foreign trips made by five top AAP leaders be made public.
Last evening, a man who later identified himself as Ankit Bharadwaj, walked up to Mr Mishra and collared him, saying his charges of corruption against Delhi Chief Minister Kejriwal were false. Mr Mishra's supporters beat up the man and handed him over to the police.
Kapil Mishra said this morning that he will today meet Delhi's Anti-Corruption Branch or ACB to hand over what he called more evidence in the "water tanker scam." Mr Mishra, who was Delhi's water supply minister, alleges that Mr Kejriwal delayed an investigation against former chief minister Sheila Dikshit of the Congress.
Sacked last week as minister and suspended by AAP days later, Mr Mishra has also alleged that he witnessed Mr Kejriwal taking two crore in bribe money from Stayendar Jain and that Mr Jain helped the Chief Minister's brother in law Surendra Kumar Bansal with a 50-crore deal.
AAP has called Mr Mishra's allegations "wild and baseless."
Get Breaking news, live coverage, and Latest News from India and around the world on NDTV.com. Catch all the Live TV action on NDTV 24x7 and NDTV India. Like us on Facebook or follow us on Twitter and Instagram for latest news and live news updates.