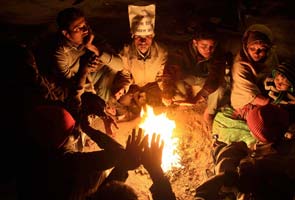 New Delhi:
Delhiites got no respite from the biting cold with the minimum temperature plunging to 6.2 degrees Celsius even as the Sun shone bright through the day.
Both minimum and maximum temperatures were below normal levels at this time of the season with MeT office attributing this to the recent spell of rain and subsequent snowfall in northern India.
"The minimum temperature was recorded at 6.2 degrees Celsius, one notch below normal and the maximum was at 18.4 degrees Celsius, three degrees below normal temperature," a MeT Department official said.
The city may not receive any rains tomorrow but Delhiites must brace themselves for shallow mist or fog in the morning, the official added.
While the maximum temperature is expected to remain around 19 degrees Celsius, the minimum temperature may further fall to 5 degrees Celsius.
On Sunday, the maximum and minimum temperatures in Delhi were at 18.4 and 6.3 degrees Celsius respectively.