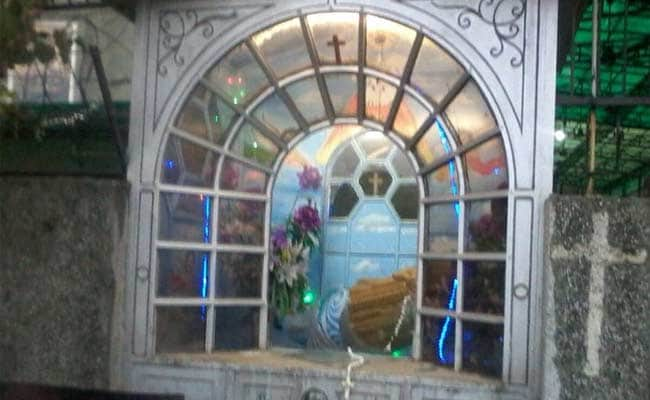 New Delhi:
Three people have been arrested in a case of vandalising church property in west Delhi's Vikaspuri on Wednesday. The church had registered a complaint with police yesterday, after they discovered that a statue had been toppled over from it's position early on Wednesday morning.
Police say that the three men are residents of Tilak Nagar, nearly two kilometres away from where the church is, and so far don't seem to have any connection with any political or fringe groups.
The arrests were made on the basis of CCTV footage obtained from the church, the police said. Two out of the three accused are seen on CCTV footage; one man is seen coming to the church window at 4.30 am, and punching at something after a short prayer.
He later returns in a few minutes with another accomplice on a motorcycle, and pulls out something from the window. Both men ride away on their bikes soon after.
This is fourth such attack on a church in Delhi, with all previous cases remaining unsolved. "A clear pattern of orchestrated attacks on churches is emerging as more and more churches are targeted, vandalised and set on fire. This is very disturbing and we request the local authorities to take adequate measures to bring to book the miscreants who are threatening to weaken the social fabric of this great nation," Delhi's Archbishop Anil JT Couto had said after the attack yesterday.
Earlier this month, a minor fire was reported from a church in Rohini in Outer Delhi. The Christmas crib placed outside the church building was completely charred.
The head priest, Father Cyril Patrick, was the first to spot it after the mass, and called the police. "I don't want to blame anyone or any particular group but I think this deliberately done by someone," he told NDTV.
The police took the CCTV footage for further investigation and registered an FIR.
Last month, a Catholic church in East Delhi's Dilshad Garden area, the St Sebastian's Church, was burnt down in a fire that the police confirmed was a case of arson.
A forensic team had found traces of kerosene inside the church premises.