New Delhi:
Highlights
Garbage dump in east Delhi's Ghazipur collapsed around 2:20 pm
Four vehicles fell into adjoining canal, rescue operations underway
Ghazipur landfill, 80 feet pile of garbage, caters to east, north Delhi
A giant pile of garbage teetered and collapsed at a massive dumping site in Delhi this afternoon, pushing one car, an auto-rickshaw and two scooters into a canal. A little girl is believed to be among the two dead; she was thrown off one of the scooters into the canal after the 150-feet heap crashed onto the road with such force that cars were swept off.
Five people have reportedly been pulled out with the help of ropes and divers. "Two bodies have been recovered from the Kondli canal in which the cars fell," said Ajay Arora, a district officer.
A rescue operation had been on for three hours at the site in Ghazipur, which is near Delhi's border with Uttar Pradesh. A team of the National Disaster Response Force or NDRF also joined the effort in orange jumpsuits and masks, and large cranes cleared the road of trash. A crowd gathered to watch, among them residents who have complained about the dump for years.
"People don't bother... we have been complaining for years and years. Why are these dangerous dumps allowed to threaten our lives?" said an angry resident.
The garbage mound, overflowing with stinking, toxic trash that has gathered over several years, collapsed around 2:30 pm.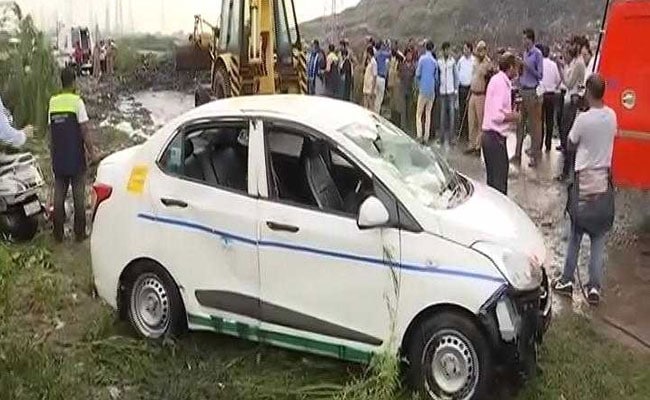 The Ghazipur landfill came up in 1984 and is the oldest of three sites where Delhi's garbage is dumped. The Ghazipur site caters to the waste generated in east Delhi, central Delhi and the old quarters of the city.
The Delhi Pollution Control Board had told the Delhi High Court in 2015 that this landfill could one day harm people. While the municipal corporation manages waste in Delhi, the Delhi Development Authority provides land to be used as dumping grounds. At least 10,000 tonnes of garbage flow out of Delhi every day.
The Delhi Traffic Police tweeted that the road leading from the Delhi-Noida-Delhi Expressway towards the landfill has been shut down.
Get Breaking news, live coverage, and Latest News from India and around the world on NDTV.com. Catch all the Live TV action on NDTV 24x7 and NDTV India. Like us on Facebook or follow us on Twitter and Instagram for latest news and live news updates.