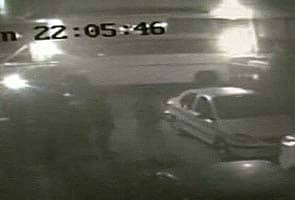 New Delhi:
The police have arrested three prime accused in the shocking case of a medical student being gang-raped and assaulted in a bus in Delhi on Sunday. Those arrested include the driver of the bus and his brother.
Three others have been detained. According to the police, along with the driver of the bus, Ram Singh, and his brother, four more men were involved in the crime. The police have also recovered the iron rod, which was used to assault the victim and her friend.
On Sunday, the 23-year-old medical student and her male friend finished watching a movie in Saket in South Delhi. At about 10 pm, they boarded a bus from Munirka in south Delhi. The six men, who were already on the chartered bus, run by a private operator, saw the young girl and began harassing and taunting her for being out with a man late in the night.
What happened next is not clear yet before an unimaginable 45 minutes. The woman was then gang-raped and beaten repeatedly with an iron rod. Her companion, who tried to intervene and protect her, was also attacked.
A little after 11 pm, the Police Control Room received a phone call from a passer-by, informing them about the semi-naked couple, lying unconscious on a flyover. The police then collected the young couple and rushed them to a hospital.
More than 24 hours later, the woman is struggling for her life. After going through multiple operations, she is currently on a ventilator.
The police sources say the iron rod used on her caused irreparable damage to her abdomen. "Doctors say she is very critical. The abdomen and the intestine are not in the right place. This is an absolutely abominable act and I condemn it," said Kiran Walia, Women and Child Development Minister, Delhi.
Her friend was treated for head injuries and is reportedly in critical condition.
The bus used was tracked down to the suburb of Noida, and was reportedly used by private schools. Though last night, police believe that Ram Singh and others were moonlighting, hoping to make an extra buck. They were all drinking before the incident, according to the police.
Delhi Chief Minister Sheila Dikshit said that the permit of the bus has been cancelled by the transport department and necessary action would be taken to ensure such incidents don't happen in the future.
"I have been told by transport department that their licence has been cancelled. We will take all the necessary measures to ensure that such incidents don't happen," she said.