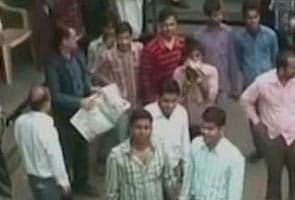 New Delhi:
A 4.9-magnitude quake shook Delhi and its adjoining areas onMonday afternoon, startling people in offices and homes. The quake, centred near Bahadurgarh town close to the Haryana-Delhi border, did not lead to any casualties.
The epicentre was just 35 kilometres from New Delhi, the India Meteorological Department (IMD) said. "The Delhi and National Capital Region (NCR) felt slight intensity tremors, which measured 4.9 on the Richter Scale. The epicentre was in the Haryana and Delhi region," R.S Dattatryam, Director of IMD's Seismology Division said.
According to the IMD, the tremor was felt at 1.11 p.m.
In South Delhi's Greater Kailash Part One, where the NDTV studio is located, the building could be felt shaking. Viewers in Gurgaon also said that they could feel the tremors. However, there were no reports of any casualty or damage. No aftershocks were reported.
In Delhi, some cellphone networks went down for a bit.
"In Vasant Kunj (South Delhi) we felt the tremors for about 6-7seconds," said NDTV viewer Shahida Khan. "I work in DLF Cybercity in Gurgaon and the earthquake was pretty strong here," posted Pankaj Sachdeva on our forum. (
Post your comments here
) In Sector 49, Sohna Road, Gurgaon, people ran out of offices. "It felt stronger here compared to recent tremors we've felt in Delhi and nearabouts. The floor shook hard on the third floor," said Tia Mohan who works at Electrolux.
" Yes, in my office too at South Delhi (Jasola). We all felt tremors with good strength. Chairs, lifts were shaking," shared Shyama.
In Haryana, Rohtak's Deputy Commissioner, Vikas Gupta said though there were minor cracks in some buildings, particularly, some old structures, there was no other damage caused by the earthquake. He also dismissed as false reports of damage caused to a school building in Mayna village located on Rohtak-Jhajjar road.
Besides Bahadurgarh, the tremors were felt in Gurgaon, Faridabad, Rohtak, Jhajjar, Hisar and Bhiwani in Haryana and Ghaziabad, Noida and Agra in Uttar Pradesh.