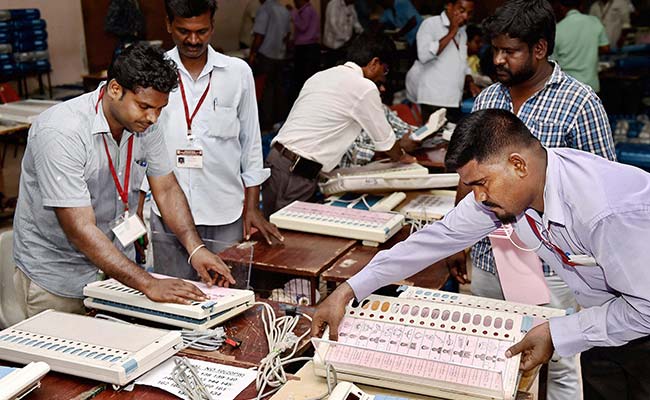 New Delhi:
The Delhi unit of the Bharatiya Janata Party today announced the names of candidates for the post of mayor, deputy mayor and other office-bearers for the three municipal corporations in the city.
Narendra Chawla (South Delhi), Adesh Kumar Gupta (North Delhi) and Bipin Bihari Singh (East Delhi) have been announced as the candidates for the mayoral polls next week that will be a mere formality in view of dominance of BJP councilors in the three corporations.
The list of names were released by Delhi BJP unit chief Manoj Tiwari.
The erstwhile Municipal Corporation of Delhi (MCD) was trifurcated into North, South and East Delhi Municipal Corporations or NDMC, SDMC and EDMC in 2012.
The mayoral five-year tenure sees five single-year terms on a rotation basis, with the first year being reserved for women, the second open category, third for reserved category and the remaining two also being in open category.
Last year, the polls were held in the women category.
The incumbent mayors for the three corporations are Preety Agarwal (NDMC), Kamaljeet Sehrawat (SDMC) and Neema Bhagat (EDMC).
The polls in SDMC would be held on April 26, while in NDMC and EDMC, it would be held on April 27.
For the South Delhi Municipal Corporation (SDMC), Satya Pal Malik would be deputy mayor candidate, while standing committee chairperson would be Shikha Rai and deputy chairperson Poonam Bhati. Outgoing mayor Kamaljeet Sehrawat will be the Leader of the House.
The deliberative wing of North Delhi Municipal Corporation (NDMC) will comprise deputy mayor Rajesh Lawadia, standing committee chairperson Veena Virmani, deputy chairperson Nisha Mann, member Manish Chaudhary and Leader of House Tilak Raj Kataria.
In East Delhi Municipal Corporation (EDMC) Kiran Vaidh would be the deputy mayor, standing committee chairman would be Satya Pal Singh, deputy chairman Romesh Chandra Gupta, member Sandip Kapoor and Leader of House Nirmal Jain.
(Except for the headline, this story has not been edited by NDTV staff and is published from a syndicated feed.)