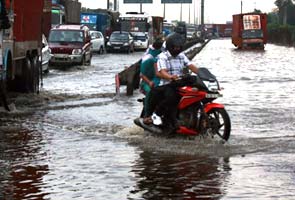 New Delhi:
The High Court in Delhi today directed the state government to set up a committee of senior officers to solve the water-logging problem in the national capital at the earliest. The court's directive came a day after heavy rainfall and subsequent water-logging brought Delhi to a grinding halt and caused massive traffic jams during the evening rush hour.
Taking note of the alleged lack of coordination between various authorities, the court directed the Chief Secretary of Delhi to constitute a committee with representatives from all bodies like the Municipal Corporation of Delhi (MCD), the New Delhi Municipal Council (NDMC), Flood and Irrigation Department, the Public Work department (PWD) and the Delhi Development Authority (DDA). The court wants this panel to take urgent action and begin work on both short-term and long-term solutions.
"All the heads of corporations and stake holders, including experts, should be in the committee so that every time people don't have to rush to the court on the issue of water-logging," a division bench of justices Sanjay Kishan Kaul and Vipin Sanghi said adding "the committee should hold frequent meetings for short-term measures to address the problem of water-logging." The bench has also allowed the government to include experts from IIT in the committee.
The state Standing Counsel (Civil) Najmi Waziri has been asked to inform the court within a week about the structure of the committee. The bench was hearing a bunch of petitions seeking launch of contempt proceedings against various civic body officials for their alleged failure in complying with the court's July 11 order on water-logging.
The court's directive came on a day the MCD filed an affidavit in the court saying water-logging is not its problem alone. It argued that other agencies should also plug in to help solve the problem.
Various civic bodies have been criticised for their alleged inaction in solving water-logging problem in the city. But they often indulge in futile blame game over jurisdiction issues. But with today's court order, Delhiites can hope for some improvement.
(With PTI Inputs)