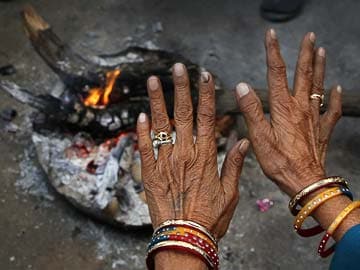 New Delhi:
It is the coldest December in Delhi in the last 18 years with the minimum temperature recorded at 2.4 degrees Celsius today, five degrees below normal.
The city recorded lowest minimum temperature of the season today. On Sunday, the minimum temperature in the national capital was 4.5 degrees.
The meteorological department has said that there is a possibility of rain from tomorrow which will cause an increase in the temperature. (
Help homeless and refugees: Donate blankets and food here
)
Hisar in Harayana touched the freezing point today with the minimum temperature recorded at -0.1, eight degrees below normal. Amritsar in Punjab was a close second at 0.8 degrees.
Cold wave continued across Uttar Pradesh and Bihar with Lucknow recording a new low of 1.9 degrees Celsius.
In Jammu and Kashmir, Srinagar froze at -5.3 degrees Celsius while Jammu was at 3.5. Shimla in neighbouring Himachal Pradesh was at 2.5 degrees.
Such has been the drop in mercury that water froze in municipal pipes in Rajasthan's Churu district while ice flakes were seen in the upper layers of Nakki lake in Mount Abu on Sunday.