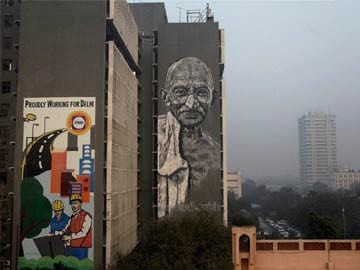 New Delhi:
A huge mural of Mahatma Gandhi was today unveiled on the wall of Delhi Police Headquarters in Delhi today on the death anniversary the Father of the Nation.
The 6,080 sq ft mural was painted by German graffiti artist Hendrik Beikirch who was assisted by Anpu, a woman street painter of Delhi.
Delhi Lt Governor Najeeb Jung who inaugurated the mural, saluted the courage of Bapu with which he always stood for truth in all circumstances and thanked Delhi Police and the artists to give such an icon to the city.
"He (Gandhi) was one of the rare personalities to walk on earth. We in India are so fortunate to have him as an Indian, we called him Bapu, our father. Through this mural, everyday Bapu will be in your mind reminding of true values of life," he said.
Delhi Commissioner of Police BS Bassi said the painting will soon become the talk of the town and a source of inspiration for all.
"I am sure for years this portrait will inspire not only the officers of Delhi Police but also the people who look at this great figure," he said.
Both Bassi and Jung applauded the two artists for their efforts.
They took five days to complete the work. "We used the paint we use to coat our house and it was a challenge for us to paint such a big mural," said Anpu.