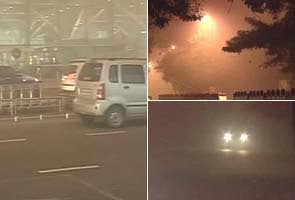 New Delhi:
Delhi today had the coldest day of the season with maximum temperature dropping to the lowest of 12.4 degree Celsius while blinding fog torpedoed flight and train schedules and harrowed passengers scrambled to reach their destinations.
The citizens wrapped themselves in extra layers of woollens as they woke up to a chilly morning with night temperatures sliding to a low of 4.3 degree Celsius, the same as yesterday, and a dense fog cover adding to their woes.
The day did not provide much succour to people as the day temperature did not rise beyond 12.4 degree Celsius, nine degrees below normal for this time of year. Yesterday, the maximum was 15.6 degree Celsius.
The coldest day of the season so far was Tuesday when the maximum and minimum dropped to the season's lowest of 12.7 degree Celsius and 3.7 degrees respectively.
Heavy fog in the morning hours disrupted air, rail and road traffic.
"Most of the flights operated on time but schedule of about 35 domestic and five international flights were affected while a cargo flight of Blue Dart (BZ 304) from Ahmedabad was diverted back to its origin station early in the morning," an airport official said.
Fog started to descend on the airport last night and thickened at around 11 pm, forcing airport authorities to implement low visibility procedures at around 11.20 pm. It was terminated after 12 hours, at 11.48 am this morning.
A total number of 279 flights operated during this period using the various categories of instrument landing system (ILS).
Heavy fog across north India also threw train traffic out of gear with 100 trains running late and five of them being rescheduled.
Northern Railway officials said in view of the dense fog in many areas of Punjab, Haryana and Uttar Pradesh, train traffic has been disrupted.
The Lucknow-Shatabdi has been cancelled from both sides while five trains have been rescheduled including the North East Express and Puri Express.
The cold wave has persisted throughout this week and the maximum temperatures too have slid below 15 degrees Celsius on several days. Low temperatures coupled with icy winds have made life difficult for the people and the capital has recorded at least three cold-related deaths since December 26. (
Read: Delhi schools shut till January 13
)
According to Met statistics, the record for the highest maximum for the month of January was 32.5 degree Celsius recorded on the 28th of 2004. The record minimum is -0.6 degree Celsius recorded on 16th of the month in 1935.