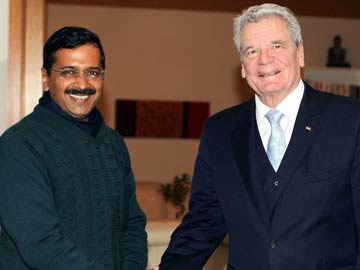 New Delhi:
In his first interaction with a visiting foreign dignitary, Delhi Chief Minister Arvind Kejriwal tonight met German President Joachim Guack during which issues ranging from Jan Lokpal Bill and AAP's plan for coming Lok Sabha elections were believed to have figured.
It is understood that the President wanted to know about Kejriwal's and his party's views on various issues during the 25-minute meeting.
"This was a formal meeting with the German President," Kejriwal told PTI after the meeting at the German Embassy in Delhi.
Sources said Gauck wanted to know about the AAP government's policies and Kejriwal's stand on various issues.
Later, Kejriwal responded to queries of diplomats from different countries on issues ranging from Jan Lokpal, corruption and his party's plan for Lok Sabha elections.
Guack had yesterday held talks with the top leadership, including Prime Minister Manmohan Singh, here on the first day of his state visit which was highlighted by inking of two pacts under which Germany will provide loans worth 900 million Euros to India.
The President is accompanied by a high-ranking delegation comprising, among others, representatives of the German cabinet, Parliament and business.
Kejriwal had met the UK High Commissioner a few days ago.
The High Commissioner of Britain to India, James Bevan, had paid a courtesy visit to Kejriwal on Saturday at his office in Delhi Secretariat.
During the meeting, Bevan had expressed keen interest in the functioning of Delhi government and wanted to know about the priorities of the chief minister.
Kejriwal also gifted a copy of his book, Swaraj, to the High Commissioner requesting him to provide feedback on it.
Bevan had congratulated Kejriwal on his victory and invited him to visit Britain.