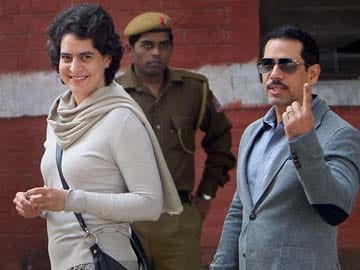 New Delhi:
A businessman was on Thursday penalised for rash driving after he "dangerously" swirled past the car of Robert Vadra, the son-in-law of Congress president Sonia Gandhi here today.
According to police sources, the incident took place in the jurisdiction of Amar Colony Police Station in South-East Delhi when Mr Vadra was coming from Okhla in his car.
The businessman, Saurabh Rastogi, who is a resident of Pashchim Vihar area, was coming from Lajpat Nagar and was going to Moti Mills in his Maruti Ritz car.
"When Rastogi dangerously overtook Vadra's car. The security personnel traveling with Vadra informed traffic police who in turn alerted local police and the errant driver was intercepted," said a senior police official on condition of anonymity.
Rastogi was fined under section 184 of the Motor Vehicle Act and allowed to leave.