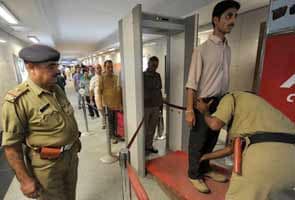 New Delhi:
The Delhi Airport Metro Express has locked horns with the central government over payment of dues to Central Industrial Security Forces (CISF) which has been deployed at the facility to secure it from possible terrorist attacks or sabotage.
The Central Industrial Security Force had some time ago raised a bill of about Rs 12 crore for securing the airport metro line facility for the six months' period when it was shut for repairs in the civil infrastructure.
The force, during this shut down period, had thinned its deployment but armed security was in place 24X7, CISF sources said.
The operator of the line, Delhi Airport Metro Express Private Limited (DAMEPL), said the matter is under arbitration and did not elaborate on the issue.
"The matter related to CISF is under arbitration and hence it would not be appropriate to comment at this juncture," a DAMEPL spokesperson said in its reply to PTI.
Sources privy to the development said a meeting to thrash out the issue was held recently in the Ministry of Home Affairs where it was suggested that either the bank guarantee deposited by the operator should be realised to obtain the dues or the Delhi Metro Rail Corporation (DMRC) should address the issue appropriately.
The operator of the Metro line, according to sources, is of the view that the security expenditure for this express line should either be subsidised or the payment should be made through the Ministry of Urban Development as in the case of the regular Metro line service running in Delhi and the national capital region.
The CISF, through the Home Ministry, wants to get its dues cleared as it is deployed on a "cost reimbursement" basis at this facility since last year.
"There is no denial of payment as such but the question is who pays? The issue is now between the operator, DMRC and the Ministry of Urban Development. A decision in this regard will soon be taken," a senior official involved in the talks said.
The 23-km corridor connects city's heart in Connaught Place with the Terminal-3 of the Indira Gandhi International Airport.