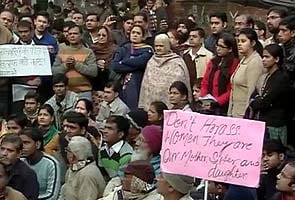 New Delhi:
A fast-track court in Saket, that will hear the gang-rape and murder case of the 23-year-old medical student in a day-to-day trial, will be inaugurated at 5:30 pm today by the Chief Justice of India Altamas Kabir.
'Amanat' (NOT her real name) was raped and brutally assaulted with an iron rod on December 16 in a moving bus in south Delhi by six drunk men. She died on Saturday in a Singapore hospital, where she was shifted to last week. All six accused have been arrested.
After raping her, they stripped the 23-year-old and her friend, also badly beaten, and threw them out of the bus. They also allegedly tried to drive the bus over the couple. The friend pulled her to safety, just in time, police sources say. This is one of many shocking details now emerging of what happened on the evening of Sunday, December 16, as the Delhi Police puts together a 1000-page chargesheet which it plans to submit in a Delhi court on tomorrow.
(Read)
The sources said the police chargesheet is likely to give details of the horrific brutality of the six men and the valiant attempt of the young woman and her friend, hopelessly outnumbered, to fight them off. In that effort, as she was pinned down and raped, the young woman bit three of the men assaulting her. The bite marks on the three accused men are likely to be part of the Delhi Police's evidence, the sources say.
After the police submit their chargesheet in the magistrate court in Saket on Thursday, the case will be moved to the fast-track court.
Over 2,500 advocates registered at the court have decided to "stay away" to ensure "speedy justice", meaning the government would have to appoint lawyers for the defendants. "We have decided that no lawyer will stand up to defend the rape accused as it would be immoral to defend the case," Sanjay Kumar, a lawyer and a member of the Saket District Bar Council, told AFP.
(Read: Lawyers refuse to defend men on trial in 'Amanat' case)
The Chief Justice of the Delhi High Court had said last month that all cases related to crimes against women in the city would be handled by the fast-track courts. The other Fast-track courts will function at Dwarka, Rohini and Tis Hazari. All these courts will start functioning from January 3.
The unabated monstrosity of the attack on 'Amanat' has walloped India, stirring anger and protests, with thousands pledging to fight in her memory for better safety for women and tougher laws for those convicted of rape. Activists have pointed out the need for fast-track trials for rape cases to counter the perception that the notoriously slow legal system allows those accused of sexual and other crimes to escape punishment.
(with inputs from Agencies)