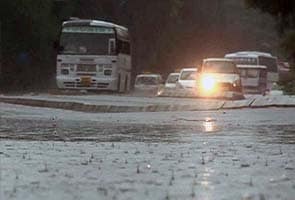 New Delhi:
Friday was Delhi's coldest October 4 in five years, with the maximum temperature dropping eight notches to 26.1 degrees Celsius as parts of the city were lashed by rain.
The maximum temperature on this day in 2012 and 2011 was 35 degrees Celsius, 34 degrees in 2010, and 36 degrees both in 2009 and 2008.
However, with no rain expected on Saturday, the temperature is expected to climb back to average.
"The skies will be partly cloudy tomorrow (Saturday). There is no forecast of rain," said an official of the India Meteorological Department (IMD).
The maximum and minimum temperatures are expected to hover around 31 and 23 degrees Celsius.
On Friday, the city received a total of 2.1 mm of rainfall from 8.30 a.m. to 5.30 p.m.
The minimum temperature settled at 22.5 degrees Celsius, a notch above the season's average. The maximum humidity was 92 percent.
Thursday's maximum temperature settled at 33.7 degrees Celsius, average for this time of the year. The minimum temperature was recorded a notch above average at 23.2 degrees Celsius.