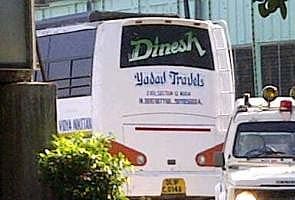 New Delhi:
The bus that a 23-year-old medical student was brutally raped in earlier this month, was a repeat offender. According to the police, it had been challaned (fined) eight times and impounded six times in the last two years. In July this year, it was impounded for picking up passengers without a permit, much the way it was used on the evening that Amanat (NOT her real name) and her friend boarded it. It was released after the owner paid Rs 2200 in fine.
Satyendra Garg, who is the joint Commissioner of Police, Traffic, said today that the bus should not have been released in July. "At that time it was picked up from Lajpat Nagar and impounded, it has no fitness certificate, no valid permit for a chartered bus, next day it came up in court... the fine was Rs 2200. The court ordered the vehicle be released to the rightful owner and the vehicle was released as Dinesh (Yadav the owner) paid the fine... My view is why do we have such a paltry fine? In this case since there was no permit, the vehicle should not have been released at all."
On December 16, the bus was again used by the driver, Ram Singh, one of the six men accused in the case, to make a quick buck by ferrying passengers. They picked up the young woman and her male friend at Munirka in south Delhi and then beat them, gangraped and tortured the girl, as the bus drove through a 31-km stretch without being stopped, despite having tinted windows and blinds which are not allowed in Delhi.
Mr Garg tweeted earlier in the morning that the same bus had been challaned eight times and impounded six times in 2011 and 2012. "Could a harsher penalty structure have prevented this inhuman crime?" the top cop asked on Twitter.
Police sources said the Delhi Transport Corporation had reportedly also complained to the transport department about the owner of the bus, Dinesh Yadav, several times, alleging that he forcibly ran private buses on bus routes, though he had permission only to run his vehicles as school buses.