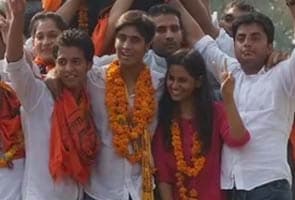 New Delhi:
BJP's student wing Akhil Bharatiya Vidyarthi Parishad (ABVP) bagged three of the four seats in the Delhi University Students' Union (DUSU) elections, the results of which were announced on Saturday.
The ABVP won the seats for the president, vice president and joint secretary, while the National Students' Union of India (NSUI) bagged the secretary's seat.
ABVP candidates Aman Awana was elected president, Utkarsh Chaudhary vice-president and Raju Rawat bagged the joint secretary's post.
NSUI's Karishma Thakur was elected secretary.
The contest was between the NSUI and the ABVP. There were a few candidates fielded by the All India Students' Association (AISA).