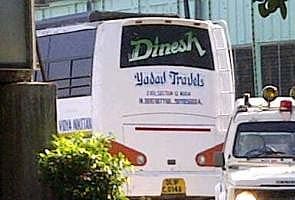 New Delhi:
Before a young woman was gang-raped on a bus on Sunday night in Delhi, the six men who assaulted her allegedly robbed a carpenter of Rs 8,000.
The bus was normally used by a private school in south Delhi.
Delhi Police Commissioner Neeraj Kumar said that the bus driver and his friends were "out for a joyride" in off-duty hours on Sunday night.
A man named Ram Aadhar has approached the police today. He said that he bought a ticket in RK Puram at 8.30 pm and boarded the bus. The six men then allegedly robbed him of Rs 8,000 and dropped him off near the IIT campus.
90 minutes later, the driver saw a young couple standing at a bus stop. The woman, a 23-year-old medical student, and her male companion bought tickets and climbed on board. The men on the bus - four of who have been arrested - then began harassing her. When her friend tried to intervene, they hit him with an iron rod. She then tried to protect him and the police says this infuriated the group. They then took turns raping and punching her in the stomach for nearly an hour.