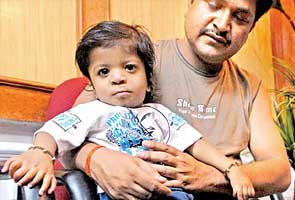 New Delhi:
When Amrita Saxena, (38) saw her son, Akshat, she started crying in joy. But the delight soon turned to shock when she realised that her son was born with a total of 34 fingers -- seven on each hand and 10 on each foot.
"I was so happy to see my baby as it was our first child. But later, when I saw his fingers, I was shocked and surprised," she said. At the time of birth in March last year, Akshat was weak, therefore his parents waited till he put on weight before he could be operated on. On Sunday, they finally came to the All India Institute of Medical Sciences (AIIMS) for the operation.
"He was a premature baby and was really weak at the time of birth. So we thought that we will wait till the time he gains some weight. Now that he is fine, we have come here for the treatment. Akshat has problems standing but we believe that he will be perfectly fine after the treatment," said Manoj Saxena, Akshat's father, who works in Bareily.
Akshat was born with a rare condition called polydactyly in which a patient has extra digits. He has been admitted at the orthopaedics unit at AIIMS for multiple congenital anomalies which includes anomalies of both hands and feet.
"The condition can be called rarest of rare and has not been reported so far. Akshat has been evaluated for other organ anomalies in the hospital but there seems to there is no other organ anomaly. The patient is being investigated regarding anomalies of blood vessel," said Dr PP Kotwal, head of department, Orthopaedics, AIIMS.
"Akshat does not have a thumb, so he requires surgical operations in his hand which includes excision of the extra digits and reconstruction of the thumb. The thumb will be reconstructed using one of the fingers which will look like a normal thumb and the feet also require excision of the extra digits and correction of deformity so that the patient restores normal gait pattern," added Dr Potwal. Amrita and Manoj never took it as a negative symbol for their son. For them, their son brought them luck.