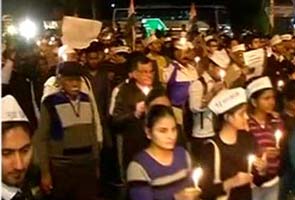 New Delhi:
Around 60-70 activists of Aam Aadmi Party (AAP) today held a protest before the residence of Congress chief Sonia Gandhi in Delhi demanding immediate hanging of the alleged rapists of a young girl in the capital.
The protesters marched to 10 Janpath - Mrs Gandhi's residence - from Jantar Mantar after a demonstration there and sat holding candles and shouting slogans against the government and demanding immediate action in the rape case.
Three protesters were allowed inside Mrs Gandhi's residence for a meeting with a Congress general secretary.
Outside, the protesters demanded that the rapists of the 23-year-old girl be immediately hanged, claiming that their guilt has been proved already.
"Why is the government taking a long time?" asked one of the protesters.
One carried a poster which read, "either you take quick action or there will be violent reaction."
Several groups also held candle light vigil at the India Gate here to express solidarity with the victim.