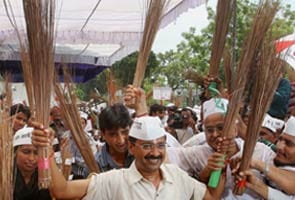 New Delhi:
Aam Aadmi Party (AAP) leader Arvind Kejriwal today officially launched the "broom" as the election symbol of his party.
After the launch, Mr Kejriwal swept central Delhi's Valmiki Complex where sweepers of the New Delhi Municipal Council (NDMC) reside. It houses over 300 flats with a population of more than 2,000 people.
He said over 90 percent sweepers belong to the Valmiki community.
"We are starting our journey from this holy ground and I am hopeful with this broom we will be able to cleanse society. With this, the cleansing of nation and politics has begun," he said.
"We assured them our party is with them," Mr Kejriwal said while addressing the residents of the locality which falls under the New Delhi constituency of Delhi Chief Minister Sheila Dikshit.
"We welcome the initiative of Aam Aadmi Party for selecting broom as the party symbol. We hope the efforts of the party will bring better days for us," a female resident and NDMC employee told IANS.
"We would request people to wield this broom for a corruption-free society," Yogendra Yadav, a social activist-turned member of the party, told IANS.
Thousands of supporters, wearing the white party cap, were present. They were also carrying hoardings and placards with anti-government slogans.
Mr Kejriwal also distributed posters carrying photo of broom and asked the party workers to paste it on Delhi's auto rickshaws and in other areas of the city.
Social activist-turned politician Kejriwal had launched the party on November 26 last year. He had decided to contest against Mrs Dikshit in the upcoming state Assembly elections.
Mr Kejriwal's party has so far announced candidates for 35 of the 71 assembly seats.