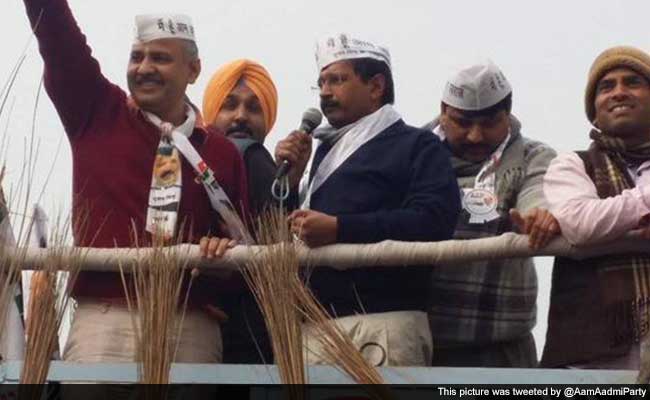 New Delhi: Aam Aadmi Party chief Arvind Kejriwal is riding in an open truck surrounded by party leaders and supporters in a big show of strength along seven km in the heart of the capital, before he files his nomination papers for the Delhi elections today.
Here are the latest developments in this story:
He began his roadshow at the Valmiki Sadan, where sanitation workers reside and where Mahatma Gandhi had stayed for a number of days. Prime Minister Narendra Modi had launched his Clean India Campaign last year from the Valmiki Sadan.
He will stop at 14 Delhi landmarks and address people as he makes his way to Jantar Mantar, which has hosted many Kejriwal protests in the last few years.
Hundreds of supporters have joined him, raising slogans, singing and dancing. A flashmob broke into dance a while ago while canvassing for the AAP chief, who had tweeted an appeal to Delhiites to "take a chhutti (leave) n join me" for the roadshow.
Mr Kejriwal, who resigned as Delhi chief minister a year ago after only 49 days in office, has repeatedly admitted that quitting was a wrong move and has appealed to Delhi to give him another chance.
He attacked the BJP today at Valmiki Sadan saying, "Need to be careful of rumours as BJP is master in that."
The BJP on Monday night picked former top cop turned activist Kiran Bedi as its chief ministerial candidate to counter Mr Kejriwal. Ms Bedi, who joined the party and also politics only four days ago, had worked closely with Mr Kejriwal as part of Gandhian activist Anna Hazare's team in his campaign against corruption.
Before starting off on his roadshow this morning Mr Kejriwal challenged Ms Bedi to a two-hour public debate before the elections. "Congrats 4 being nominated as BJP's CM candidate. I invite u 4 a public debate moderated by neutral person n telecast by all," he tweeted.

Kiran Bedi said she is accepting the challenge but will debate Mr Kejriwal on the floor of the Delhi Assembly. "Arvind only believes in debate, I believe in delivering. Debates will happen on floor of the Assembly," she said.
There was much speculation on whether the BJP would also field Ms Bedi in a direct confrontation with Mr Kejriwaal in his New Delhi constituency, but it has picked Nupur Sharma, a young lawyer and graduate from the London School of Economics to on the AAP chief.
The Congress has put up former Kiran Walia to contest against Mr Kejriwal in the New Delhi constituency. In December 2013, Mr Kejriwal had in his first ever election defeated then chief minister Sheila Dikshit by 26000 votes in New Delhi, a constituency that the Congress leader had held for years.