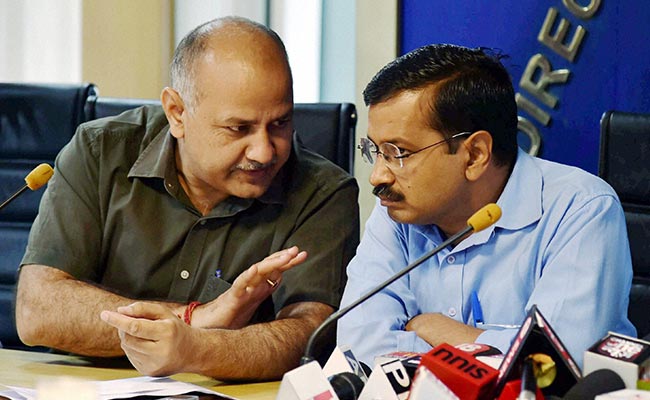 Highlights
Deputy Chief Minister Manish Sisodia, 11 lawmakers also charged
AAP says it is "fake, laughable criminal case"
Delhi Chief Secretary alleged attacked at Mr Kejriwal's home in February
New Delhi:
Delhi Chief Minister Arvind Kejriwal, his deputy Manish Sisodia and 11 other lawmakers were named as accused in the case involving the alleged assault on Chief Secretary Anshu Prakash -- setting up another flashpoint between the Centre and the Delhi government. The Aam Aadmi Party government has called it a "fake and laughable criminal case" that was the "result of the extreme frustration of the Modi government". The alleged attack, which took place during a meeting at the Chief Minister's House in February, had led to a months-long face-off between the ministers and bureaucrats, which was resolved in June.
Here are the Top 10 updates in this big story:
Anshu Prakash had alleged that he was attacked at a late night meeting in February over a delay in releasing a three-year anniversary TV campaign. Initially he was threatened and then Amanatullah Khan and Prakash Jarwal "started hitting and assaulting me", he said in his complaint.

In the 3000-page chargesheet filed today, besides Arvind Kejriwal and Manish Sisodia, 11 lawmakers including Amanatullah Khan, Prakash Jarwal and Sanjeev Jha were named.

The police alleged that Mr Kejriwal, Mr Sisodia and the others had conspired to threaten the Chief Secretary, obstructed him in discharging his public function and caused hurt. They have also been accused of wrongful confinement, intentional insult, abetment and unlawful assembly.

If convicted, the Chief Minister and his lawmakers may get a maximum of seven year jail term. The court will consider the charge sheet on August 25.

In a statement to the media, five Delhi ministers said, "It appears that the Modi government has learnt no lesson from its previous attempt of booking elected MLAs in false cases... the fast track courts in Delhi during last five months have acquitted/discharged elected MLAs is 19 out of 22 cases registered against them since February 2015."

"From snatching powers of the elected Delhi government through an illegal notification to ACB and CBI raids, terrorising officers through raids and threats of transfers and ruining careers, no stone has been left unturned in paralysing the Delhi government," the statement read.

Mr Kejriwal and his ministers dismissed the Chief Secretary's allegations as ludicrous and cited the CCTV footage from the house as evidence. A forensic report later said the time counters on the CCTV cameras were nearly 40 minutes behind the actual time.

Two of the party lawmakers -- Amantullah Khan and Prakash Jarwal --were arrested soon after the alleged assault. Both are out on bail.

In May, the police met the Chief Minister at his home for over three hours and asked around 100 questions. His house was searched as well.

The next month, Mr Kejriwal and his ministers spent nine days and nights protesting inside a guest room at Lieutenant Governor Anil Baijal's residence Raj Niwas, alleging that the bureaucrats were on a strike under the orders of the Centre, using this incident as an excuse.