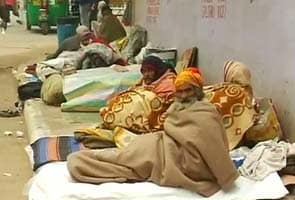 New Delhi:
Today, Delhi experienced its coldest morning of the season with temperature dropping bon-chillingly low to 2.7 degrees Celsius. The cold is particularly excruciating for the patients who don't get beds inside hospitals and have been virtually living on the pavements.
Like 12-year-old Chandan. He was diagnosed five months ago with bone marrow cancer. His father accompanied him from their village in Bihar to Delhi. Treatment at AIIMS is heavily subsidised. But they have nowhere to live.
So now, in between appointments for chemotherapy at the hospital, the family sleeps on the pavement.
Chandan's father, Girish, originally tried to rent a room nearby for Rs. 60 a day. But without any income, that soon became unaffordable.
Across the road from AIIMS, a shelter has 400 beds for out-of-town and needy patients and it is full. But after the plight of children like Chandan was highlighted, the hospital has opened a new night shelter which can accommodate 500 people. Many patients were moved into this shelter home overnight.
Delhi Health Minister AK Walia had visited the shelter yesterday and said it would be started on priority. "I was moved by story on your channel. We plan to take this seriously," he had told NDTV.
The Delhi government has about 150 shelters for the homeless in the city, but with around three lakh people on the streets, that's far too less.
Last year too, NDTV reported how this public toilet at AIIMS was used as a shelter by homeless patients and their relatives. The police had evicted them, but the cold has forced them to come back this year.
(Thousands of people in Delhi are in need of your help. Please donate blankets for them. For details, read: This winter, help keep someone warm. Donate a blanket.)