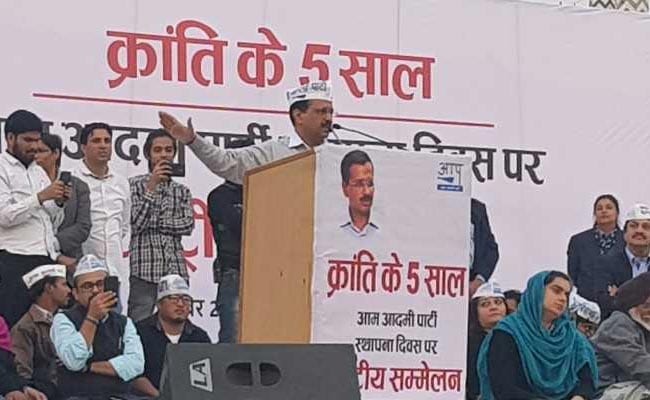 Highlights
AAP celebrates five-year anniversary at Delhi's Ramlila Maidan
Kejriwal says BJP as bad as the Congress, refers to Vyapam, Rafale rows
Says thanks to AAP, Delhi has cheap electricity, free water, healthcare
New Delhi:
The Aam Aadmi Party, which began in 2012 as a political experiment and shortly went on to sweep the assembly elections in Delhi, completed five years today.
The occasion was marked by a huge rally in Delhi's Ramlila Maidan, where over 10,000 AAP supporters gathered on the huge grounds outside Red Fort which sees the enactment of Lord Ram's victory over Ravan every year.
As thousands gathered, Chief Minister
Arvind Kejriwal
shared dais with the party's other founder members -- Deputy Chief Minister Manish Sisodia, Kumar Vishwas -- and senior party leaders Ashutosh, Gopal Rai and Atishi Marlena.
The party's beginning had been rooted in India Against Corruption, the mass movement for a Lokpal bill led by noted Gandhian
Anna Hazare
. Along the way, it had its share of controversies - from Mr Kejriwal's stepping down 49 days after winning the election in 2013 as his flagship ombudsman law did not get enough votes to make it in the assembly, to the bitter public feud that ended with the ousting of founder members
Yogendra Yadav
and Prashant Bhushan and the ongoing warfare with the centre over governance.
Today, Mr Kejriwal referred to the party's core agenda of anti-corruption in a speech peppered with shots aimed at the BJP-led central government. "They were so unnerved with our work that that snatched the Anti-Corruption Bureau from us. They sent paramilitary forces - perhaps for the first time in India's history like this - and they took over the building."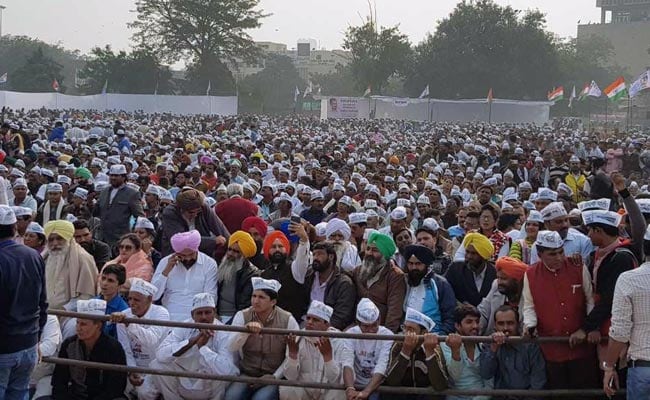 "On corruption, the
BJP's record is as bad as the Congress
," he said, citing Vyapam scam, Rafale scam, Birla diaries, Sahara diaries, he said. "Even judges are not safe it seems. Just as you had uprooted the Congress, the time for BJP too is coming," he added.
In 2015, AAP had scripted a coup by winning 67 of Delhi's 70 assembly seats, leaving just three for the BJP. But its ascent seemed to stutter as it failed in multiple poll campaigns -- including Punjab this year.
A series of public outbursts against Prime Minister Narendra Modi also appeared to dent the popularity of both AAP and Mr Kejriwal. In recent months, the 49-year-old leader has been seen scaling down his attacks on the BJP and the Prime Minister.
But there are still those who root for the party. Among those who came for the celebration in Delhi was Kanta Malik, a 39-year-old housewife who travelled from Rohini.
"My children go to Delhi government school and the quality of education and facilities have improved. My water bill is negligible and Kejriwal is still the common man's hope towards a change in this political system," she said.