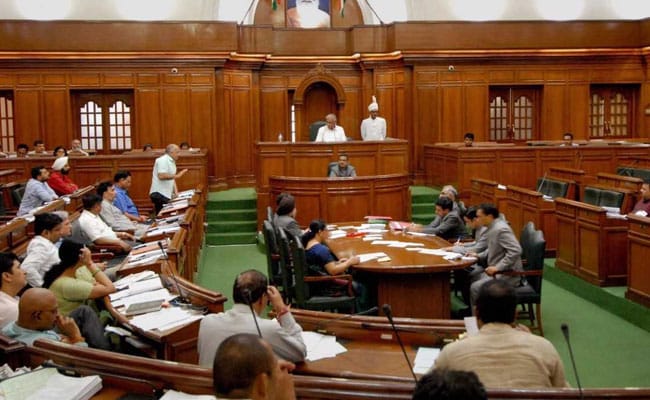 New Delhi:
The Aam Aadmi Party on Wednesday requested Lieutenant Governor Anil Baijal to give his assent to a bill on
Mohalla Sabhas
.
The bill, which has been passed by the Delhi Assembly, enables the formation of Mohalla Sabhas, the urban version of
Gram Sabha
, through which people will get a say in the development works and fund allocation in their areas.
Speaking on the issue in the assembly, Aam Aadmi Party MLA Rajesh Gupta said Mohalla Sabhas ensure that people's responsibility doesn't end with the casting of votes.
He said through Mohalla Sabhas, people get to decide whether they need a road or a canal and the work is not done according to the wishes of the MLAs.
AAP MLAs said it was one of the planks on which they fought the elections and a pilot project was also run in 11 assembly constituencies.
Health Minister Satyendar Jain said that Rs 350 crore was passed in the budget for Mohalla Sabhas but it remains unspent as the Lieutenant Governor hasn't given approval to the bill and requested him to pass it.
AAP MLAs said that Mohalla Sabhas will lead to decentralisation of power, weeding out corruption and "swaraj".
Untill people give their NOC (No Objection Certificate) bills of developmental works won't be passed (under Mohalla Sabha system), said AAP MLA Bandana Kumari.
Bharatiya Janata Party MLA Vijender Gupta supported the idea of Mohalla Sabhas but said that the AAP government has not worked on the details and micro-level matters and is trying to put the blame on others.
"What about the financial distribution, tender allotment and micro-level planning? You've not gone into the details and until you do, it's not going to move forward," the BJP leader said.
Concluding the discussion, Mr Jain said that they're open to any amendment from the opposition and politics should not come in the way of working for people.