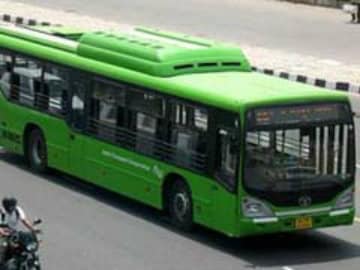 New Delhi:
As many as 787 persons have been killed and 2,678 others injured in accidents involving Delhi Transport Corporation (DTC) buses in the past 10 years.
According to data available with DTC, 63 persons were mowed down and 184 people injured by its buses from March 2013 to April 2014. During this period, DTC buses were involved in 225 accidental cases, of which 33 took place due to rash and negligent driving.
"During 2012-2013, 251 accidental cases were caused by DTC buses, killing 68 people and injuring 229. Of these cases, 39 accidents occurred due to rash and negligent driving.
"Apart from that, DTC buses killed 77 persons and injured 274, causing 264 accidents in 2011-2012 and of which, 80 accidental cases took place due to rash and negligent driving," according to the data.
In January this year, 600 DTC drivers, who allegedly had got job on fake medical fitness certificate, were alleged to be colour blind by the Information Commissioner M Sridhar Acharyulu.
In an open letter to then Chief Minister Arvind Kejriwal, the Information Commissioner had said, "It is alleged that at least 600 have colour blindness and many others suffer from other problems.
"I apprehend (and every one will agree) that if this is even partly true, the right to life of commuters in Delhi city will be under serious and constant threat until it is ensured that every driver is fit enough to drive the buses," Mr Acharyulu wrote.
DTC's data also shows that 62 persons were killed and 186 injured by DTC's buses in 2010-11, while 60 persons were mowed down and 170 were injured in 2009-10. As many as 167 persons were injured and 64 killed in 177 accidental cases during 2008-09.
According to the data, in 2007-08, the corporation buses killed 64 persons and injured 214 people in 207 accidents.
"Similarly, 244 people were injured while 89 were killed in 256 accidents during 2006-07. Besides, 135 persons were mowed down and 417 were injured by DTC buses in 381 cases in 2005-06 while in the period of 2004-05, DTC buses killed 105 persons and injured 593 people, occurring 410 accidents," an official source said, quoting the data.
After a lot of hue and cry over the increasing accidental cases by Blueline buses, the then Sheila Dikshit-led government had to take decision to phase out blueline buses, which had also earned the "killer tag".
Thereafter, Bluelines buses were completely removed by the government from the national capital's roads in June, 2012.
Follow NDTV for latest election news and live coverage of assembly elections 2019 in Maharashtra and Haryana.
Subscribe to our YouTube channel, like us on Facebook or follow us on Twitter and Instagram for latest news and live news updates.