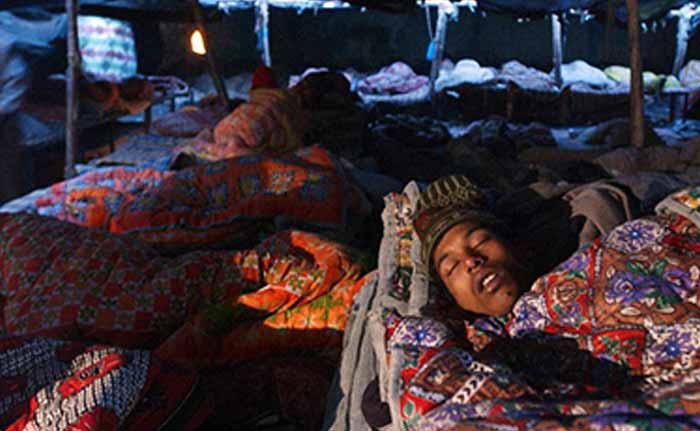 New Delhi:
In an effort to prevent death of any homeless person due to sleeping in open during Delhi's chilly winters, the government has arranged night shelters and tents to accommodate at least 19,000 people.
Chief Minister Arvind Kejriwal today said," a few days ago a meeting of all departments was held in this regard and it was emphasised that no person dies because of sleeping in the open in cold nights. We all need to endeavor so that no one dies while sleeping in the open during winter."
In total, 198 night shelters and 40 tents have been set up to accommodate around 19,000 persons. If more people come there will be not be any shortage of space," he further said while inaugurating two night shelters at Geeta Ghat near Kashmiri Gate.
He also launched an App developed by Delhi Urban Shelter Improvement Board (DUSIB) for rescuing homeless people during the cold nights and putting them at night shelters.
"The App will enable people to click pictures of homeless people sleeping out in the night and send it so that they could be rescued and sheltered, he said while criticising social media enthusiasts for mocking the government over it.
"This App is not meant for the homeless people to use as some mocked it on social media. It is for all of us who have phones and who have been taken care of by the God. You need to click the photo and send us as you see homeless people sleeping in the open so that rescue teams could bring them to night shelters," he said.
Speaking on the occasion CEO of DUSIB, VK Jain, said that 33,000 blankets, 14,000 durries, 11,500 jute mats, have been arranged for use at nights shelters during the winter. Also, there are over 27,500 blankets in stock.
"The night shelters are well maintained and special attention has been paid for maintaining facilities like drinking water and toilets."
"We will also be ensuring round the clock monitoring of maintenance of the night shelters and rescue work through 20 teams," he said.
Among the 200 odd night shelters in Delhi, 44 are in Chandni Chowk constituency. The App launched by DUSIB can be downloaded by dialling the number 8826400500.
"We will also be ensuring round the clock monitoring of maintenance of the night shelters and rescue work through 20 teams," he said.
DUSIB with the help of NGOs will operate 20 rescue vans which will be used for bringing homeless people sleeping in open during winter night, to shelter homes.
Each rescue van will be occupied by a team of four including a coordinator, besides the van driver.
The App can be used by anyone with a smart phone to click pictures of homeless people forced to stay out in the night.
The rescue teams will reach them and bring them to shelters, said a DUSIB official.
As soon as any photo or information about homeless people is sent it is received by a server at a control room set up in Punarvas Bhawan near ITO.
The information will be provided to NGO coordinators who will initiate follow up action and the sender of information or photo will also be updated about its progress and finally receive the 'complaint attended' message, added the official.