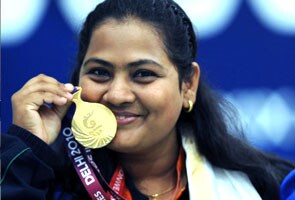 New Delhi:
It's not always that you think of dreaming big when you earn a meagre salary of Rs 1500, let alone aim for 'shooting stars'.
So for Anisa Sayyed, success tastes even more sweet when you consider the adversities that she has had to overcome while turning out to be one of India's top women shooters.
"I got an award of Best NCC Shooter in my school life. Never understood the significance of that award. I only knew that I was interested in shooting. Then when I used to work as a school teacher, I used to earn Rs 1500 and used to buy equipments. Then SP Ganesh of Pune presented me with a gun seeing my interest in the sport," Anisa told the mediapersons during an interaction at the Main Press Centre.
Anisa, who won two gold medals in the 25m air pistol, the 25m air pistol pairs with Rahi Sarnobat and individual, also feels that had it not been for her husband, she wouldn't have come so far.
"My husband has been like a pillar of strength. He has never raised any objections about my interest in shooting. More so he is the one who would encourage me to think about achieving bigger goals."
Her words were greeted with loud round of applause from other gold medal winners Gagan Narang and Omkar Singh.
Anisa also credited national coach Sunny Thomas for helping her with various technique.
"When Sunny sir stands behind me while I am competing, I feel secured and assured. His presence has a calming influence," she said.
Rahi Sarnobat dismissed suggestions that she was a bit cross after missing out on gold, having scored better during the gold winning performance in the pairs event.
"Why should I? After all Anisa has won it and that too for India. We should all be proud about the fact," Rahi said.
One of the other gold medal winners, Omkar Singh, now wants to concentrate on the World Cup finals which will be held in Munich on October 24.
"Olympic gold is the ultimate aim but before that I would like to take one step at a time. First, a good show at the World Cup final followed by Asian Games and then the World Military Championships," said Omkar, who works as the Chief Petty Officer with the Indian Navy.