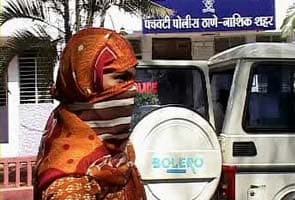 Nashik, Maharashtra:
It's one more case that adds to the rising and shameful statistics of gender violence.
In Nashik, a city known for its local vineyards, a woman just two months pregnant, was kicked, punched in her stomach and stomped upon by her husband and his family when they thought she was carrying a girl child.
The foetus did not survive and had to be aborted.
In her complaint to the Panchvati police in Nasik, 20-year-old Suvarna Gaikwad says that her husband and his family constantly harassed her for dowry that her poor parents could not provide.
When she was expecting a baby, Suvarna just eight weeks pregnant, was dragged to a Godman who proclaimed the foetus was a girl.
Her angry in-laws then forced her to abort the child.
Suvarna refused and was brutally attacked.
"My husband's family would regularly visit this so called Godman. They took me to him too, since there were squabbles in the house. He gave me some ashes and lemons - one of which, I had with water. I only had one because I didn't believe him. Since I refused to abort my baby, they hit me," she recounted.
So badly was Suvarna hit, that she lost her baby.
She later confided in her uncle who helped her file a police complaint.
Her husband Khanderao Gaikwad who is a daily wage labourer, the godman Shyambaba Shinde and six others including her in-laws have been arrested and charged under sections 498 (a) and 313 of the Indian Penal Code for harassment and causing miscarriage without woman's consent.
Bajirao Bhosale, the police inspector at Panchvati police station confirmed the details. "One godman told her that the baby in her stomach is a girl and that the family will suffer a lot because of that girl and so Suvarna Gaikwad was assaulted. We have arrested those involved," he said.
Some local women's groups have promised to help Suvarna with her case.