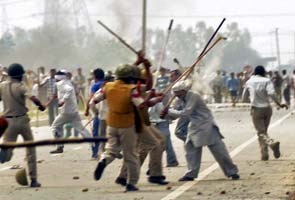 Rohtak:
Three people have died and over 100 others are injured after angry villagers of Karotha in Rohtak district of Haryana clashed with police demanding the removal of a religious headman of local ashram.
The priest in question, Rampal Maharaj, heads the Arya Samaj
math
and has been accused of defaming the Vedas religious texts.
This morning a group armed with lathis marched towards the math in an attempt to confront and get him to leave the premises.
They were confronted by the police who had to resort to force to stop the angry mob. The clash turned violent and the mob set two buses, motorcycles, an ambulance and alcohol shops ablaze.
Prohibitory orders have been imposed in the area under Section 144. The Rohtak-Jhajjar Highway has been closed and police from adjoining districts have been called in to ease the tension in the area.