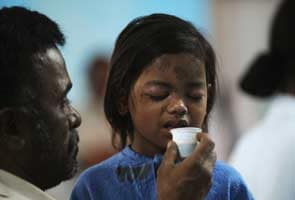 Thane:
The four-year-old miracle survivor of Thursday's Daighar building crash in Thane finally opened her eyes today. She cried, much to the relief of surviving relatives and siblings, doctors said.
The victim, Sandhya Thakur, had been unable to open her eyes, swollen with dust, watering and psychological trauma, after the seven-storey building collapsed on Thursday.
She had spent several hours under the debris before rescuers dug her out.
A total of 74 persons were killed in the crash, making it the worst-ever building collapse tragedy in Maharashtra in the past decade.
Sandhya told rescuers, in broken sentences, her parents' names. She also mentioned her six siblings, an aunt and a grandfather, who lived with her in her native village.
With great difficulty, the rescuers managed to find that Kiran, Sandhya's mother, had died in the building crash. The child's father and some of her siblings are still missing. Rescue operations were called off on Saturday.
Unable to open her eyes, Sandhya has been crying and asking for her parents, giving rescuers a harrowing time.
A woman in the neighbourhood, identified as Joselyn, took Sandhya under her care, consoling and feeding her as efforts continued to trace her relatives.
This morning, Sandhya woke up and opened her eyes. Doctors attending to her said her vision was unharmed.
Earlier, doctors had carried out x-ray tests and confirmed that she had not suffered any other internal injuries or fractures.
This morning, the Kalyan Police took Sandhya under its charge, relieving Joselyn of the responsibility, but the little girl wailed to go back.
Medical personnel and police are hopeful she will calm down soon, as efforts continue to trace her kin.
Meanwhile, authorities were flooded with offers of monetary help as Sandhya's story was flashed on television. Some people asked if she could be adopted.