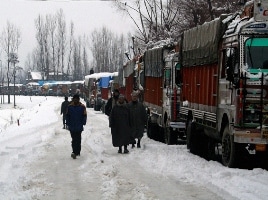 Srinagar:
Residents of Srinagar and other parts of the Kashmir Valley faced a tough time on Tuesday heating up frozen water taps and negotiating the slippery roads as the minimum temperature in the city and the nearby region dipped to 5.6 degrees Celsius below freezing point.
"The minimum temperature in Srinagar city was minus 5.6 degrees while it slipped to minus 11.7 in Gulmarg and minus 8.2 in Pahalgam hill station," said R.L. Pandita, assistant director at the local weather office here.
"Leh town in Ladakh region recorded a minimum of minus 9.8 while Kargil was the coldest at minus 21.0 degrees Celsius. Jammu city recorded a minimum of 4.2 degrees," he added.
The minimum temperatures in both Srinagar and Jammu were four degrees below normal on Tuesday.
Pandita said light rain or snowfall was likely across the valley in the next 24 hours.
Water taps in most localities of Srinagar city had frozen in the morning and locals tried to melt the ice by burning fires around the pipes.
"Even lighting a matchstick outside is a Herculean job as fingers become numb immediately after exposure to the extreme chill," said Mehraj-ud-Din, 38, a fruit seller in Residency Road area of Srinagar.
Residents were also complaining of highly slippery conditions in lanes and bylanes of the old and uptown areas of Srinagar.
"It is very difficult to maintain a steady walk during the morning frost. I almost fell down while buying bread from the baker in the morning," said Manzoor Ahmad, 48, a resident of old city area here.
However, elder Kashmiris, who earlier were ruing the absence of icicles which were common during their childhood, were happy at the sight of icicles hanging from the rooftops.
"It is like the old times. Large icicles have formed and the largest of them behave like prisms splitting light into its seven colours when the sun shines in the morning", said Muhammad Shaban, 71, who lives in north Kashmir's Ganderbal district.