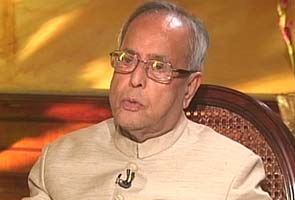 Raipur:
President Pranab Mukherjee will inaugurate a new terminal building at Mana Airport in the Chhattisgarh capital on Wednesday.
Airports Authority of India (AAI) chairman V K Aggarwal told this to reporters in Raipur on Tuesday.
The construction work of the new airport terminal is over and it will be opened by the President on Wednesday, he said.
"A decision had been taken to develop 35 new airport terminals across the country, including one at the Raipur airport. This new terminal building can accommodate 700 passengers, including 200 international fliers," Mr Aggarwal said.
He added that the new terminal, which has been made at a cost of approximately Rs 150 crore, will be opened for public from November 10.
Mr Aggarwal pointed out that Raipur had seen a 58 per cent rise in terms of the number of passenger over the past one and half years.
The length of the Mana airport runway, which is presently 7,500 feet, will be increased up to 9,000 feet, he added.