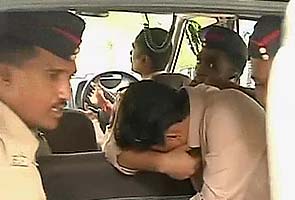 Mumbai:
In a development that brings great shame to the medical fraternity and raises questions about the sanctity of protocol involving male doctors and female patients, medical reports have confirmed rape in Sunday's incident at Lotus hospital.
Dr Vishal Vanne, 27, accused of raping a patient in a semi-conscious state in the ICU, was produced before court on Monday; he was remanded in police custody till October 25. He was arrested under section 376 D (intercourse by any member of the management or staff of a hospital with any woman in that hospital).
"Medical reports have confirmed rape. Semen was found on her dress, on the bed and also on the underwear of the accused which confirmed his involvement in the crime. We are waiting for forensic reports," said police inspector Rajkumar Chaphekar from the Vashi police station.
The complainant -- the victim's husband -- has claimed that the accused was watching porn clippings on his cellphone before he raped his 30-year-old patient. "We have sent his mobile phone to a forensic lab in Kalina. We will get the details of the website on which he was watching the clippings from the service provider," a police official said on the condition of anonymity.
The incident took place on Saturday night, after the victim was admitted to the hospital after complaining of giddiness during Durga puja celebrations. Her husband took her to Lotus hospital where she was initially admitted to the general ward; she was put under the supervision of Vanne (BAMS) (RMO) and administered saline. Vanne, a resident of Ghansoli, is unmarried and stays with his parents. He has been working with the hospital for the last one-and-a-half years.
"Since the patient was semi-conscious, there is also a possibility that the doctor might have injected some medicine which he is not supposed to give to a low blood pressure patient. We are investigating if he had given any sedative to the victim," the officer said. Vanne later recommended that she be shifted to the ICU.
"The management did not reply properly when I went to question them. They are trying to support the accused. Police should take action against them," her husband said.
ACP (Vashi) Purushottam Karad said, "The nurse was sleeping outside the ICU as she wasn't well. If the involvement of any other person is proven, we will take strict action."
Copyright restricted. Under license from
www.3dsyndication.com