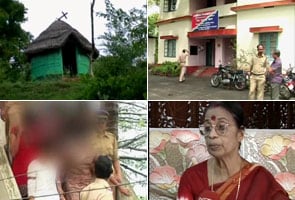 Thiruvananthapuram:
It was touted as a centre for spiritual healing. But it turned out to be a house of horror for five young girls, who allege they were sexually harassed by two trustees of a Catholic charity organization on the pretext of 'spiritual healing.'
Unable to bear the trauma, all five ran away to a nearby railway station and were spotted by the police.
"They admitted us in the guise of providing counselling but exploited us," said one of the victims.
A case has now been registered against the two trustees and the counselling centre-cum-orphanage in Palakkad district that functioned without a license has been shut down.
But the state Women's Commission has taken serious note of the incident and has asked the government to check the functioning of such spiritual centres.
"Atrocities against women are on the rise in Kerala. Ministers have to intervene. Orders have to be passed so that such institutions are not allowed to function," said Justice D Sridevi, the chairperson of Kerala State Women's Commission.
Women's activists hope this incident will serve as an eye-opener for the government to clamp down on such illegal spiritual healing centres that are mushrooming in the state.