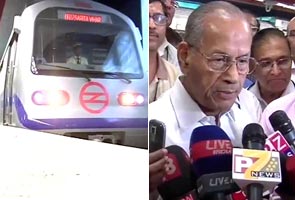 New Delhi:
Having missed the CWG deadline after failing to get the mandatory safety clearance, the Airport Express Metro Line, that promises to take commuters from Connaught Place to the International Airport in just 18 minutes, is likely to be operational by the end of this month.
Delhi Metro chief E Sreedharan on Sunday expressed the hope that the 22-km high-speed corridor will get the safety certificate and will be opened to public soon.
The Airport Express Line, which will be run by a consortium led by Reliance Infrastructure, failed to get safety clearance from the Commissioner of Metro Rail Safety (CMRS) last week due to signalling problem and non-conduct of speed trials.
This is the first time a Metro line in the country failed to get the safety clearance on the first inspection. The Line was scheduled to be opened to the public before the beginning of the Games.
"The Line is complete. It has not been able to get the safety certificate. We hope to get it very shortly," Sreedharan told reporters after the Central Secretariat-Sarita Vihar corridor was thrown open to the public.
He said the Delhi Metro does not have control over the Airport Line as the entire operations will be managed by the Reliance-led consortium.
"Airport Line, unfortunately, is not within the control of DMRC. DMRC has done only the civil works. All the systems like tracks, electrification, signalling, rolling stock and air conditioning are being done by Reliance Infrastructure Limited," he said.
Asked whether the line will be ready before the end of the Games, Sreedharan said: "I don't think it will be ready by then. But, anyways it is not very, very important for the Games. No one is going to take that Metro for the Games."
"They (the consortium) are trying hard I hope by the end of this month it will be ready," he said in reply to a question.
The Airport Line is the first Metro line in the country to be implemented on Public Private Partnership basis with DMRC having completed the civil work with the remaining works to be done by the concessionaire.
The line promises to take passengers from Connaught Place to airport in just 18 minutes with stoppages at four stations. It usually takes 45 minutes to one hour to go the airport by road.
Get Breaking news, live coverage, and Latest News from India and around the world on NDTV.com. Catch all the Live TV action on NDTV 24x7 and NDTV India. Like us on Facebook or follow us on Twitter and Instagram for latest news and live news updates.