Jaipur:
Highlights
A wedding was going on in the hall when storm hit the area, police said
Entire structure of wall and a tin shed collapsed and people got trapped
Bodies shifted to a mortuary for postmortem scheduled today
At least 26 people, including four children, were killed and 28 injured when a wall of a wedding hall collapsed during a storm in Rajasthan's Bharatpur district on Wednesday night, police said.
"The wall and a tin shed attached to it at the marriage venue collapsed due to a storm," said Anil Tank, Superintendent of Police in Bharatpur. Of the 26 injured, 15 were critical, he said, adding that the wall was nearly 90-foot-long and 12-13 feet in height and there were food stalls set up along the wall for the wedding.
The injured have been rushed to hospital near Bharatpur. Television footage showed anxious relatives standing next to hospital beds.

A case has been registered against the wedding hall manager on charges of causing death by negligence. He has been detained for interrgoation.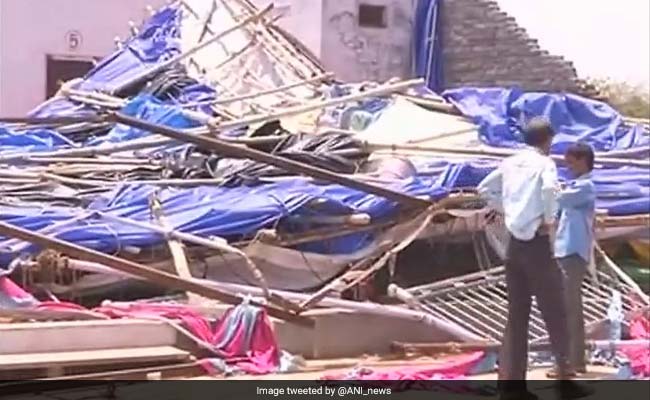 "We have registered a case and taken one of the managers of the banquet hall into custody," Bharatpur District Magistrate Narendra Kumar Gupta told reporters.

"We will investigate if the hall owners had a valid licence. In case they did not have a licence, appropriate action will be taken against them," he said.

Prime Minister Narendra Modi said the incident had pained him "beyond words". He has also announced a compensation of Rs. 2 lakhs for the family of those who have died and Rs 50,000 for the seriously injured.
The incident in Bharatpur has pained me beyond words. My thoughts are with the families of the deceased. I hope the injured recover soon: PM

PMO India (@PMOIndia) May 11, 2017
Chief Minister Vasundhara Raje also condoled the deaths and instructed officers concerned for proper treatment of the injured.
Rajasthan is one of India's most arid states, but
suffers frequent dust storms during the hotter months
.
(with inputs from agencies)