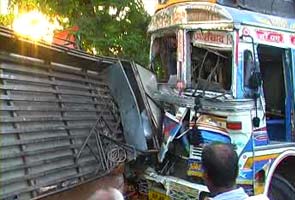 Chhatarpur (MP):
15 people were killed and over 30 injured when their bus collided head-on with a truck near Naugaon Navodaya Vidyalaya, about 20 killometres from Chhatarpur.
The bus was on its way to Chhatarpur from Harpalpur when it crashed into a Naugaon-bound truck loaded with cement around 6 am on Tuesday, police said.
The accident claimed 12 lives on the spot while four others succumbed to injuries en route to a nearby hospital.
Chhattarpur Collector Rajesh Bahuguna and other officials reached the spot soon after the mishap.
13 people, eight in serious condition, were admitted in the Chhatarpur district hospital while the remaining are undergoing treatment at Nougaon civil hospital, police said.
The Chief Minister has announced an ex-gratia of Rs one lakh each to the deceased and Rs 50,000 for the injured.
(With PTI inputs)