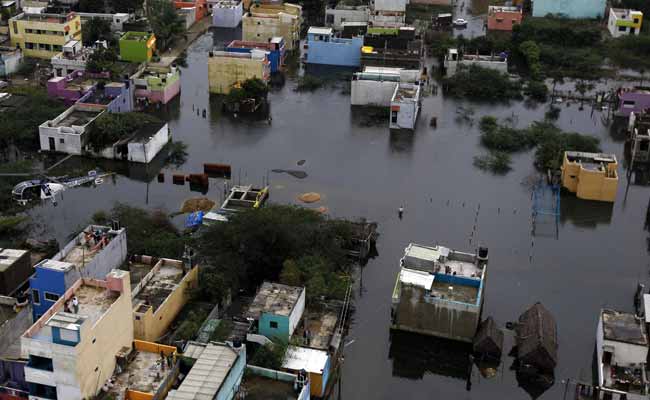 Chennai:
Chennai may not have had to face the floods had the authorities not tried to save water in Chembarambakkam Lake for drinking purposes, an expert has claimed.
When the meteorological department forecast very heavy rains from December 2, the lake -- 40 km from Chennai and the largest in Tamil Nadu -- was nearly full.
The authorities, however, failed to gradually empty the lake to make space for the excess rain water. Instead, they let the reservoir reach its capacity, allegedly to save the maximum water possible.
"They didn't take the weather forecast seriously," said Professor S Janakarajan from Madras Institute of Development Studies.
"They wanted to follow the conventional notion of keeping the water level two feet below in order to save water. I won't blame them entirely... probably they did it with good intentions," he added.
When the rains came, surplus from the lake and canals flowed into River Adyar, flooding Chennai.
Retired Brigadier Rajagopalan, who lives in Chennai's Defence Colony close to the river and lost all his belongings in the flood, said no warning was issued about the discharge.
Officials claim 30,000 cusecs from the reservoir was released into the river. But the Brigadier suspects it must have been least three times as much. The discharge, he added, "was catastrophic."
Authorities, however, said there was no lapse. "It was already raining heavily, all areas were inundated. We could not have released water anyway," said Kancheepuram Collector R Gajlakshmi.
While some are calling it policy paralysis or bad management, others are blaming it on a delay in decision-making. "The lake is owned by the Public Works Department. But the waters are used by the Chennai Metro Water. Here itself there's confusion," said Professor Janakarajan.
Over 300 people died and thousands were displaced as much of Chennai and other parts of Tamil Nadu were flooded after the highest rainfall in nearly a Century lashed the state over the past month.