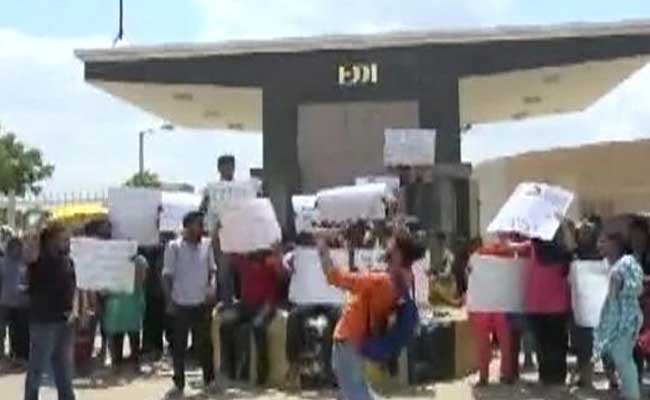 Chennai:
Nearly 4,000 students who joined the Union Commerce Ministry's Footwear Design and Development Institutes at campuses across the country between 2012 and 2014 are facing a bleak future.
There are eight campuses of the institute including those in Noida, Chennai and Kolkata but the University Grants Commission has not recognised their courses as the university they were affiliated with has not been approved.
FDDI had signed an MoU with Mewar University in 2012 for awarding degrees. But last year, the UGC termed it illegal, sparking off protests from students. Students across all campuses have now launched an indefinite hunger strike.
"We are completely baffled. We don't know what we will do in the future. To take up any job, we need a degree which we don't have," said Avinash Rajpurohit, a second year fashion merchandising and retail management student at FDDI Chennai.
Many others say it's a double whammy for them: the pain of no degree and the burden of educational loan.
The ministry says it is looking at the possibility of making FDDI a deemed university. "I underline we are doing our best to sort this matter. We are working on possibilities of making FDDI a deemed university," Union Commerce Minister Nirmala Seetharaman said.
But many feel this could be too late. Already around four hundred students have opted out in fear.
The FDDI, under the Commerce Ministry, had a tie-up with Indira Gandhi National Open University (IGNOU) for grant of degrees. However, the alliance was snapped in 2012 academic session after requests for renewal of the MoU between IGNOU with FDDI did not fructify.
Following the quashing of the agreement, FDDI roped in Mewar University of Rajasthan to offer degree programmes from the 2012 academic session. The University Grants Commission (UGC) in September 2014 questioned the MoU between the FDDI and Mewar University for grant of degree to FDDI students registered for 2012, 2013 and 2014 in view of non-recognition of these degrees by the All India Council for Technical Education (AICTE).