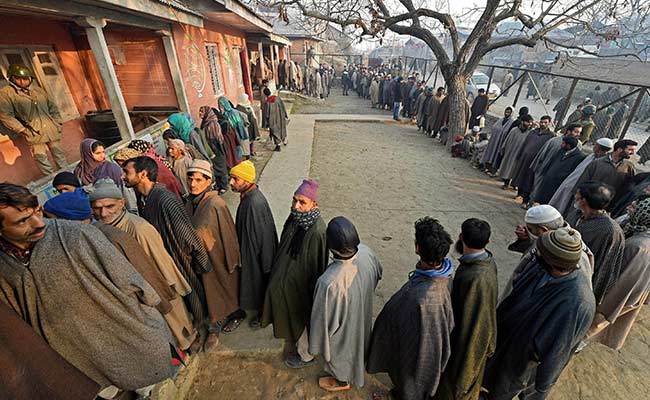 SRINAGAR:
Despite the shadow of terror and boycott call, 58% people came out to vote in the third of the five-phase assembly elections in Jammu and Kashmir today. The turnout was nearly 6% from the assembly elections of 2008. The corresponding figure in the Lok Sabha polls in May was 25.43%. Jharkhand, which also went to polls, recorded 61% turnout - a jump from the 54.85% of 2009.
"The people of Jammu and Kashmir are setting records in the elections by voting in large numbers, so also in Jharkhand. I commend and congratulate you as it will give a new power to the democracy," Prime Minister Narendra Modi said at an election meeting in Dhanbad.

Polling took place for 16 seats across three key districts of Jammu and Kashmir -- Budgam, Pulwama and Baramulla -- parts of which faced Friday's serial terror attacks and pockets which traditionally boycotted polls.

Of the three districts, Budgam recorded the highest polling, 70%. The turnout in Baramullah was 57% and Pulwama, 43%.

Sopore, which witnessed only 1% voting in the Lok Sabha polls in May, recorded a turnout of 30% - a 30-year record.


Barring a petrol bomb attack in Gulmarg and isolated incidents of stone-throwing in Baramulla, polling was peaceful.

Till 3 pm, Uri, which witnessed a suicide attack on an army camp on Friday, registered the highest voter turnout of 72%. Other areas which recorded high turnouts include Charar-e-Sharif, 69%, Gulmarg, 62.5% and Beerwah, 55%.

More than 56% Kashmiri Pandits displaced from the Valley voted in Jammu at special booths set up for them, Election Commission officials said.


On Monday, Prime Minister Narendra Modi addressed a rally in Srinagar - the first by the BJP in over a decade - and in Jammu's Samba."The finger that presses the EVM (Electronic Voting Machine) button is stronger than the one on the AK-47 trigger," he said.


In Jharkhand, while Silli assembly constituency recorded the highest polling, 74.77%,Ranchi registered the lowest at 44.44%.


The next phase of elections - the fourth - will be held on December 14. The counting of votes is on December 23.