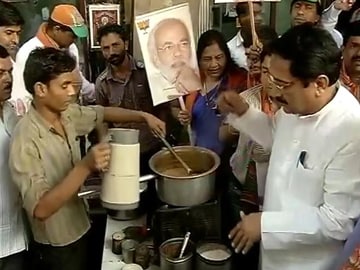 Ahemdabad:
Narendra Modi, the BJP's prime ministerial candidate, will launch his 'chai pe charcha' or discussion over tea from a tea stall in Ahmedabad today. Though the exact location of Mr Modi's venue is being kept a secret for security reasons, sources said the chief minister was expected to pick a tea stall in the western part of Ahmedabad.
Here's all about the chai campaign in 10 points:
The Gujarat chief minister will use what is being pegged as "a unique combination of satellite, DTH, internet and mobile," for his 'chai pe charcha,' a mega outreach programme which is part of his campaign for general elections due by May.

The programme will be relayed at 1,000 tea stalls in 300 cities across the country. Mr Modi will be in between 6 and 7 pm.

Of the 1,000 locations, he will directly interact with people at 30 locations; here people can share their views, ask questions and make suggestions on the BJP's election campaign through video-conference.

The organisers have opened their website for questions that people want to ask the BJP's prime ministerial candidate at tea on Wednesday. Five participants will be picked from among those to pose their questions to Mr Modi, who will interact with people from a tea stall in Ahmedabad, Gujarat.

The subject for today's 'chai pe charcha' is good governance.

61 locations have been chosen all over Gujarat, 36 in Bihar, 32 in Kerala and 46 in Delhi among other states.

BJP managers say it is an out-of-the-box initiative, that bucks traditional campaigning methods by facilitating discussion simultaneously in multiple locations.

The BJP will hold between 12 and 15 such sessions, with other top leaders also engaging with the public over tea.

The programme, which highlights that Mr Modi sold tea on trains as a young boy, is positioned as a gigantic snub to political rivals like the Congress' Mani Shankar Aiyar, who have made snide remarks about the Gujarat Chief Minister's modest origins.

Congress Vice President Rahul Gandhi recently said "every tea-seller, every labourer should be respected, but he who makes a fool of people should not be respected."