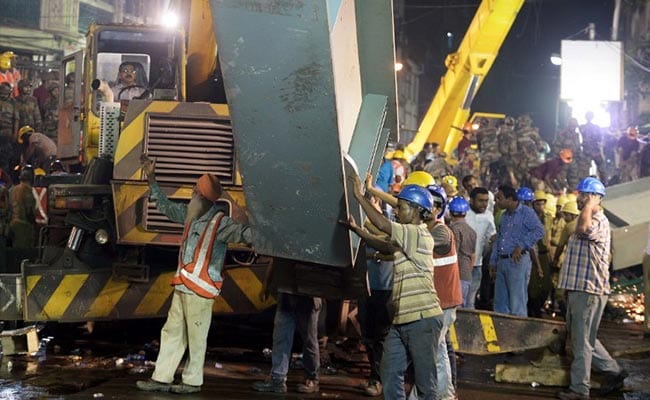 Highlights
At least 26 killed, 80 injured as under-construction flyover collapses
Three employees of IVRCL, the company building the flyover, arrested
Rahul Gandhi visits flyover collapse site and injured in hospital
Kolkata:
The number of deaths in the Kolkata flyover collapse rose to 26 after one more body was recovered from underneath the piles of debris of concrete and iron girdles of the broken portion of the under-construction bridge. More than 80 people were injured.
Here are the latest developments:
"This area is quite critical because of its proximity to residential buildings along the road. We were getting foul smell from underneath the rubble, but we have to be very cautious... One wrong step can lead to another mishap by bringing down the other part of the flyover," said a senior officer at rescue site.

Three employees of IVRCL, the company building the flyover, were arrested in the city late Friday evening. The state government suspended two senior engineers of the Kolkata Metropolitan Development Authority which was IVRCL's joint venture partner in the project. The police have registered a case of murder and attempt to murder against IVRCL.

The construction company, under scrutiny over its track record and its debts, defended itself today, hinting at several possibilities including a bomb blast. "The glass was shattered. It could have been a blast," Sheela Peddinti, legal adviser to IVRCL said.

Rescuers worked through the night with cranes, electric saws and jackhammers to look for people trapped in the debris. More than 80 people were rescued. Rescuers now say there is now no possibility of finding any survivor.

62 families living in buildings near the flyover have been asked to vacate temporarily for the safe removal of collapsed debris.

Earlier this morning, Congress president Rahul Gandhi visited the flyover collapse site and also met with the injured in a hospital. He denied any comment, saying "came here to meet injured, don't want to give political statement".

The bridge has been under construction since 2009. The company was given an 18-month deadline and a budget of nearly Rs. 165 crore to complete the project but after seven years, only about 60 percent of the work has been done.

Apart from this flyover, IVRCL got 27 projects across India the same year. Last year, it posted a loss of 672 crore and recently, a consortium of banks took over.

Chief Minister Mamata Banerjee has said those responsible for the disaster will not be spared and blamed the previous Left government that had awarded the flyover contract in 2007.

Opposition parties allege that the flyover was being built without proper planning and rules had been overlooked to allow its construction at a teeming commercial area.