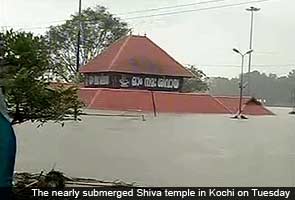 Kochi:
Monsoon fury continues to play havoc in Kerala. Incessant rain since Saturday and subsequent landslides have claimed at least 14 lives. Officials say more casualties are expected. The Kochi airport will remain closed for the second day today due to water flooding the runway. 126 flights have been cancelled since yesterday, affecting nearly 11,000 passengers.
Here are the latest developments in the story:
It has been raining heavily in Kerala for the last four days. As a result, the Periyar River is flowing near the danger mark. Alert has been issued in several villages near the river.

But this hasn't deterred devotees to gather on the banks of the river in Aluva, 27 kms from Kochi, for a religious ritual at a temple dedicated to Lord Shiva. The temple is nearly submerged, said officials. A team of five Navy divers are on standby near the temple. (See pics here)


The Kochi airport was shut down on Monday after water flooded the runway and the parking bay. Flight operations are not expected to resume at least till 3:30 pm today. 126 flights have been cancelled since yesterday affecting nearly 11,000 passengers.

ACK Nair, a senior official at the airport, said, "What we are told is that since some dam shutters was open on account of the heavy rains, the water level increased in and around the airport. As a result, water entered the parking bays and taxiway."

Chief Minister Oommen Chandy called an emergency cabinet meeting in the state capital yesterday to review the situation. He will undertake an aerial survey of the landslide-affected areas today.

Incessant rain and landslides have claimed at least 14 lives. Many bodies were found in a stretch of National Highway 49 in Idukki in the central part of the state. Several cars have flipped over and more casualties are expected, warned officials. The highway connects Kochi to Madurai in Tamil Nadu.

Adimali, popular with tourists, has been worst hit due to the heavy rainfall. Doctors and ambulances have been rushed down from nearby hill towns like Munnar. 20,000 people have been moved to relief camps in Idukki and Ernakulum, where heavy rainfall has been recorded.

In Idukki, many farmers have suffered severe loss of crop and property. A huge mound of rock and rubble came crashing down at Chiyyappara in the district while relief work was on in the area after a landslide. Several people are reported missing; many vehicles are trapped under the debris.

The Army and National Disaster Relief Force have been brought in for relief and rescue operations.

Relief and rescue operations continued overnight in Idukki and Aluva. Marine divers from the Navy rescued almost 180 people from villages near Cochin yesterday.